The Grey Lady Music Lounge, Sunday 10th March 2013

click to enlarge
JUICED UP ROCK 'N' ROLL, VAMPIRIC LATINO LOVE SONGS and ALTERNATIVE MUSINGS.
Rocket Lovers are a newly formed raw and dirty combo led by Steve Spall (The Violet Jive) on Guitar/Vocals, featuring Nilz O'Hara (Ross and the Wrongens) on Double Bass /Vocals and Stu Wallinger (The Diarys) on Drums. Expect grungy surf guitar vibrations, fiery Latin montunos, wicked wordplay and heartfelt rose scented musings with dreamy melodies. No mad promo or 'making it' desires just yet; simply getting back to creating good music and enjoying some hot rodded shivers and shakes.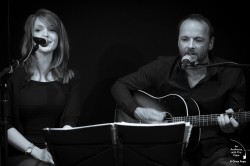 click to enlarge
Chiddingstone based duo Ant & Fie are Anthony Vicary (guitar and vocals) and Fiona Keeler (vocals & Piano.) Anthony was previously the frontman of local indie/rock band 'Catching Flies'. After five years of rigorous performing all over the southeast it was decided that the band had reached a natural end leading Anthony to put down his electric guitar and explore the acoustic side of rock music. With Fiona joining more recently, this talented duo have fused together to emerge as one of the most talented and highly respected acts at the show here at The Grey Lady. Their breathtaking vocals express creative and thought provoking lyrics coupled with crafted melodies which comprises elements of folk, blues and alternative acoustic rock. The duo enjoyed their radio debut earlier this year with a recent live performance of 'Tobacco Stained Guitar' on BBC Radio Kent. They have just released their debut EP entitled 'The Quiet'.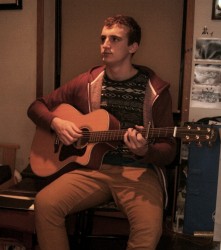 click to enlarge
Seb Pettitt is a young, exciting singer-songwriter based in Sevenoaks.
Drawing on folk influences and inspired by artists such as Laura Marling, Mumford and Sons, Ben Howard and John Martyn, he has been writing songs since he was 14 years old.
These musicians have shaped Seb's mature timbre and style which belie his years. His songs, ripe with haunting melodies and uplifting chord progressions, are delivered with a powerful and resonating voice.
While he mainly writes on and plays the guitar, he also composes and performs on the piano, with echoes of artists such as Elton John, Bruce Hornsby and Marc Cohn.
Seb is an emerging talent with an appeal spanning generations and genres, looking to perform to larger audiences mostly in the Sevenoaks and Tunbridge Wells areas and gain more recognition.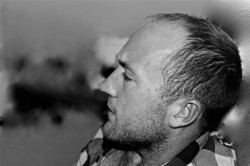 click to enlarge
Jez Harley is a singer/songwriter who is a regular performer with both The Good Ship Band and Harley & Woods. Jez has achieved commercial and critical success as a songwriter with Scott English and as a singer/songwriter in the early 2000's.
Jez wants to share some of the songs and sentiments that he feels are more appropriate for solo material - using just piano and voice, the work is delivered through stripped-back, intimate performances that aim to illuminate and contemplate life's most precious and delicate facets whilst inspiring the audience to respond to the material on an instinctive level.