The Grey Lady Music Lounge, Wednesday 27th June 2012

click to enlarge
Currently in the middle of recording his 3rd studio album, 2015 has seen Dan debut new material from his forthcoming album at one of Holland's biggest festivals "Concert At Sea" alongside the likes of Lenny Kravits, Counting Crows and Dutch legends BLØF. His own events "Folking In The Strawberries" selling out fast with up to 1000 attendees attending 5 weekly events at his residency at a Kent Strawberry farm.
Dan's previous album campaign saw him play a support to a sold out Albert Hall gain support from Radio 2 and an extended session for Bob Harris. He also gained support from Tim Minchin who invited Dan to accompany him as a special guest on numerous stages and TV/Radio appearances. Additionally Dan's recent appearance to a full to capacity stage at Glastonbury sits well with an ever-growing tick list for Dan.
With new material in the pipeline be sure to catch him live with a brand new set of songs already gaining attention and recognition as his best material to date.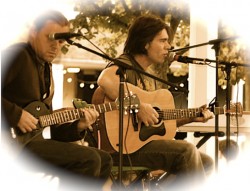 click to enlarge
Jake and Toby Boyle are pleased to revisit having played the very first Local & Live Grey Lady gig all those years ago!
Growler promise to take you on a multi dimensional journey with heartfelt songs laced with rainbow coloured guitar, spirited piano playing and inspired vocal artistry built from years of music making and a devotion to creativity and self expression.

Toby & Jake have been pro musicians since childhood, writing and producing music for multi-media, and performing around 300 gigs a year with various bands.
Toby also manages a number of bands through his company, Toby Boyle Music, and Jake is Director of Vocalwise, a well-established Voice Coaching company.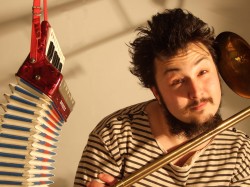 click to enlarge
Otti Albietz was born in Malaga, Spain, and grew up traveling around Europe, and Morocco. He has lived in England since 2005, spending the first 5 years as lead vocalist and writer in various bands, including 'State of Miasma', and 'Dusty Rosko', the latter having released album 'nextwave-heavysoul' on 'Big Village Records' in October 2011.
Alongside these projects he has increasingly persued a path as a solo performer, with an emphasis on minimalist arrangements, and one-on-one musical collaboration in the studio.
His debut solo album '1', was released on 'Big Village Records' in January 2011, and toured through central Europe in August 2011, visiting Frankfurt, Basel, Hamburg and Mullhouse. Otti is recording his second album with producer Harvey Summers, due for release on vinyl and CD in May 2012.
Artists he has shared a stage with include 'Quintron and miss pussycat' (New Orleans), 'She Makes War' (London), 'Disappears' (Chicago, including 'Sonic Youth' drummer Steve Shelley), Zoe Konez (London) and Pete Doherty's tour support band 'Billy Bones' (London). Musical collaborations on his albums have included experimental flautist Geoff Leigh ('Henry Cow'/'Faust'), Korean Classical violinist Yoon-Ji, and instrumentalist Thad Skews ('Phil Collins 3'/'Unicorndad vrs Robodad'). He performs solo and as a duo (with Thad Skews) throughout London, Oxford, Brighton, and the rest of Sussex. Upcoming dates this year include an England tour in May, and a European tour in July.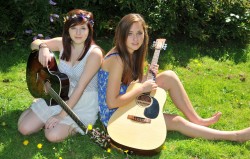 click to enlarge
Giorgia Moran and Eleanor Mason (GEMM) met at secondary school in Rye. After a short while of being friends they learnt that they shared a passion for music, singing and guitar (which they were beginning to learn at the time) they had both been in the early processes of writing their own songs at the time, which they began to perform to each other for constructive criticism and harmonies.
The first song they ever performed together was after showing their music teacher Mr Chris McGeever, who then added it in last minute, to the school concert, which was on that very night.
Slowly, as their confidence was built up, and their style became more rounded, thanks to the support of their music teachers at school, friends and family, they began to gig more outside of school, around the local area: Rye, Hastings and then busking in Brighton. GEMM consists of two vocals, two guitars, all original material with harmonies, and have been described as "folk-pop".
Since the early days, they have been offered many gigs, varying from music concerts to performing at various art conventions. But have had to slow it down due to GCSE exams in their last year at school. Now that they are almost finished, they hope to start it up again, and create a larger fan-base and start gigging at different venues.
You can "like" GEMM on Facebook to hear about new recordings/gigs and other news. Both singers within the duo, also perform solo, which you can also find on facebook, by searching either of their names.