Otti Albietz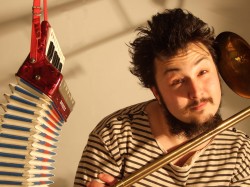 click to enlarge
Otti Albietz was born in Malaga, Spain, and grew up traveling around Europe, and Morocco. He has lived in England since 2005, spending the first 5 years as lead vocalist and writer in various bands, including 'State of Miasma', and 'Dusty Rosko', the latter having released album 'nextwave-heavysoul' on 'Big Village Records' in October 2011.
Alongside these projects he has increasingly persued a path as a solo performer, with an emphasis on minimalist arrangements, and one-on-one musical collaboration in the studio.
His debut solo album '1', was released on 'Big Village Records' in January 2011, and toured through central Europe in August 2011, visiting Frankfurt, Basel, Hamburg and Mullhouse. Otti is recording his second album with producer Harvey Summers, due for release on vinyl and CD in May 2012.
Artists he has shared a stage with include 'Quintron and miss pussycat' (New Orleans), 'She Makes War' (London), 'Disappears' (Chicago, including 'Sonic Youth' drummer Steve Shelley), Zoe Konez (London) and Pete Doherty's tour support band 'Billy Bones' (London). Musical collaborations on his albums have included experimental flautist Geoff Leigh ('Henry Cow'/'Faust'), Korean Classical violinist Yoon-Ji, and instrumentalist Thad Skews ('Phil Collins 3'/'Unicorndad vrs Robodad'). He performs solo and as a duo (with Thad Skews) throughout London, Oxford, Brighton, and the rest of Sussex. Upcoming dates this year include an England tour in May, and a European tour in July.
Last played:
The Grey Lady Music Lounge, Wednesday 27th June 2012
GEMM, Otti Albietz, Jake Boyle (from Growler), Dan Clews Band