GEMM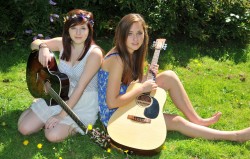 click to enlarge
Giorgia Moran and Eleanor Mason (GEMM) met at secondary school in Rye. After a short while of being friends they learnt that they shared a passion for music, singing and guitar (which they were beginning to learn at the time) they had both been in the early processes of writing their own songs at the time, which they began to perform to each other for constructive criticism and harmonies.
The first song they ever performed together was after showing their music teacher Mr Chris McGeever, who then added it in last minute, to the school concert, which was on that very night.
Slowly, as their confidence was built up, and their style became more rounded, thanks to the support of their music teachers at school, friends and family, they began to gig more outside of school, around the local area: Rye, Hastings and then busking in Brighton. GEMM consists of two vocals, two guitars, all original material with harmonies, and have been described as "folk-pop".
Since the early days, they have been offered many gigs, varying from music concerts to performing at various art conventions. But have had to slow it down due to GCSE exams in their last year at school. Now that they are almost finished, they hope to start it up again, and create a larger fan-base and start gigging at different venues.
You can "like" GEMM on Facebook to hear about new recordings/gigs and other news. Both singers within the duo, also perform solo, which you can also find on facebook, by searching either of their names.
Last played:
The Grey Lady Music Lounge, Sunday 14th October 2012
The Alamo, GEMM, Ant & Fie, The Standard Lamps