The Grey Lady Music Lounge, Sunday 6th May 2012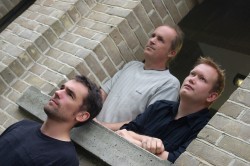 click to enlarge
With a sound described as 'Thom Yorke meets John Lennon', Tunbridge Wells based Sevenscore deliver a dynamic rock/pop sound brimming with edginess and thought provoking lyrics and melodies. Alfie Noakes, Mark Cooper and Martin Lucas formed the band in 2002. Following the recording of their album, 'Safe and Dry' in 2003, performances have included the Tunbridge Wells Forum, the 'Gazastock' festival, 'Music on the Meadow', and two consecutive nights at the 'Hop Farm Fireworks Extravaganza' (attended by over 10,000 each night!) In mid 2006 Sevenscore was joined by Ollie Nicholls and shortly afterwards the band won a place in the final of the kmfm battle of the bands. Following this, the song 'Smile' topped KMFM's local music chart and recieved airplay. Sevenscore gave a memorable headline performance at this year's 'Local & Live' festival and 2009 has seen the band expand to a 5 piece line up with Steve McCormack joining on Guitar/vocals and Paul Dunton on keys. Sevenscore are directing their focus on performing and recording new material which is due for release in the coming months.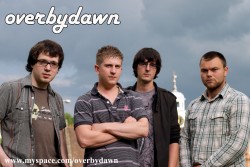 click to enlarge
overbydawn are a 4 piece band from Kent, England. They combine their passionate melodic music with lyrics that mean everything and nothing at the same time merging the two into songs that covey hope, despair, love and anger. With Ashley's inimitable vocals and uniquely crafted arrangements, Andy's emotive guitar riffs, Phil's subtle bass lines and Stuart's driving drum patterns, overbydawn are a band to take over your senses. The band formed in May 2009 and started performing live only 2 months later ending the year with a triumphant gig at London's famous Bull and Gate pub. The band however, ended the year without a bassist but started 2010 with a friend of the band joining on bass duties to help throw themselves into honing their sound live. overbydawn are looking to have their debut E.P out by October this year.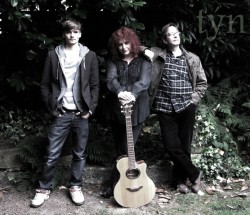 click to enlarge
týn has been performing regularly at The Grey Lady since 2008 and before that with local band 'the magd'. Originally a duo, Tracey (vocals and guitar) and Anthony (keyboards) were joined by Mark on percussion in 2010.
Their music is mainly acoustic, sometimes spare and stripped out and sometimes intricately arranged but always personal and intimate and performed with passion. Between them, týn has a few decades worth of classical and modern influences; which have left their mark on what you hear now. They have covered songs by Guns N' Roses, Eva Cassidy, Damien Rice, Cole Porter and Muse, to name a few…
One of Tracey and Anthony's recent projects was writing, recording and producing a contemporary musical about Mary Magdalene. 'Rest In You' which was performed at Trinity Theatre, Tunbridge Wells in April 2011. A CD of the songs is available and the script and score will be published later in the year.
týn continues to work on their albums of original songs and covers and hopes you will continue to support their musical projects.
click to enlarge
The Mud Bees are a new band in Tunbridge Wells, having swarmed just before Christmas 2011. They are fronted by songwriter AdAM (of AdAM and the Previous People – on guitar and vocals) and the rest of the polleny colony(!) are Tyson (formerly of Tehillah Commission – on guitar) George (Bass) and Chris (Drums). Their musical style is still developing, but would presently be best described as being quirky (latin) jazz pop. Expect a healthy buzz of fun and fine music!