The Grey Lady Music Lounge, Wednesday 16th March 2011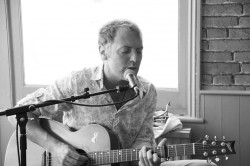 click to enlarge
Local singer/songwriter; Logan Wilson's recently released album entitled 'Geography' is described by Andy Gunton of Hastings Rock as "one of the best locally-produced albums I've ever heard", praising its "high level of musicianship". Geography harks back to the carefree days of summer, though in no way shies away from the darker side of life. Born in South Africa and currently living in East Sussex, Logan is actively giging up and down the country with his band comprised of Steve Hope (keys), Simon Shaw (guitar/vocals), Sacha Trochet (percussion/vocals) and Matt Novis (bass guitar/vocals) at numerous prominent venues and festivals. Logan continues to enjoy regular airplay and live sessions on BBC Radio 2 on both the Janice Long and Terry Wogan shows and is on the cusp of signing to a major label. Influences include Paul Simon & Neil Finn.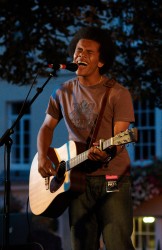 click to enlarge
Until fairly recently Luke sang and played guitar in local band 'Tehillah Commission' who over a six year period performed throughout the South East (and occasionally further afield). Since their final performance in the summer of 2009 Luke has taken time working on new material, collaborating with a number of local artists and also writing songs to perform as a solo artist. Drawing from extremely diverse influences (from John Mayer to Usher), Luke sets out to write songs that interrogate the highs and lows of life, often imbedding insightful questions within carefully crafted toe-tapping melodies.
Luke is accompanied by Barnabus Shaw on piano.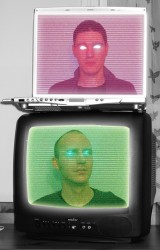 click to enlarge
With no love for the traditional trappings and clichés that pollute the world of acoustic music, Mechanical Sunrise is a two-piece band from the Southeast who deliver a raw, uncompromising sound. Musically, their influences range from Nick Cave and early New Model Army to Israeli trance act Infected Mushroom. Lyrically inspired by everything from universal entropy to the works of avant-garde occult writer Grant Morrison, the duo deliver an acerbic, yet playful commentary on the counterfeit culture that pervades Britain in the 21st Century. Between them, bassist Craig Burton and guitarist Ed Hammond had burnt through a flurry of bands before forming their current project, including local goth-rock legends Purity of Decadence and Stable award winning indie band Zoë From London. However, it is with the Mechanical Sunrise that the two have at last found their voice -and with an almost fetish-like obsession with the apocalypse, the only thing burning this time will be the world as it prepares for the dawn of the Mechanical Sun.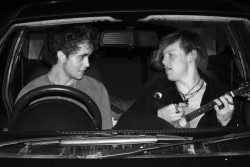 click to enlarge
Ruari and Jake met at a performing arts school when Ruari was 11 and Jake, 12 and initially connected due to their taste in music, personalities and their natural ability to work well on stage together. They started performing together in local theatres in productions such as 'Dracula' playing Dracula and his servant Genghis, 'A Midsummer Night's Dream' as Demitrius and Lysander and many more. Later they went on to performing in open theatres around the west end including The Royal Albert Hall, Drury Lane Theatre and the London palladium in performances such as Tommy the musical and Bugsy Malone.
After realising they performed well together they started playing covers at a young age from legendary bands such as The Beatles, The Who, Bon Jovi, and songs from musicals such as Les Miserables, 'I Dreamed a Dream' and the musical 'Rent'. At the ages of 13 and 14 the boys started writing their own material and luckily one of the boy's dads had a recording studio and they started to put these tracks down. As they gained more experience their song writing and creativity matured resulting in the young lads writing orchestral pieces to their music and incorporating more dynamic sounds such as synths, new guitar sounds/dynamics and percussion instruments.
Even though the Rock/Pop duo have stopped acting together (for the mean time), they are currently writing a musical which they hope to get to the west end. The plot is still confidential; however the music they have written will be modern and resemble greatly the roots of their influences which include: The Beatles, Big and Rich, Journey, The Beachboys, McFly, Nickleback, The Script, Abba and the list goes on.