The Grey Lady Music Lounge, Sunday 11th July 2010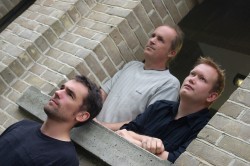 click to enlarge
With a sound described as 'Thom Yorke meets John Lennon', Tunbridge Wells based Sevenscore deliver a dynamic rock/pop sound brimming with edginess and thought provoking lyrics and melodies. Alfie Noakes, Mark Cooper and Martin Lucas formed the band in 2002. Following the recording of their album, 'Safe and Dry' in 2003, performances have included the Tunbridge Wells Forum, the 'Gazastock' festival, 'Music on the Meadow', and two consecutive nights at the 'Hop Farm Fireworks Extravaganza' (attended by over 10,000 each night!) In mid 2006 Sevenscore was joined by Ollie Nicholls and shortly afterwards the band won a place in the final of the kmfm battle of the bands. Following this, the song 'Smile' topped KMFM's local music chart and recieved airplay. Sevenscore gave a memorable headline performance at this year's 'Local & Live' festival and 2009 has seen the band expand to a 5 piece line up with Steve McCormack joining on Guitar/vocals and Paul Dunton on keys. Sevenscore are directing their focus on performing and recording new material which is due for release in the coming months.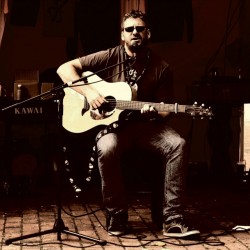 click to enlarge
Emerging on the local singer/songwriter scene over a decade ago after a number of years playing in cover bands, Chris was quickly hailed as "an inspiring modern day troubadour who pens lyrics of real substance and meaning." His music was described as "touching on themes and experiences that people are genuinely able to relate to and which capture the attention of his audience from the very first note, whether listening to him live or on one of his recordings."
10 years later despite a long battle with tinnitus, the above remains as true as ever but with the added depth and insight that another decade of life experience brings. He has played regularly in the UK as well as at the fringe at SXSW and a number of venues in around Dallas and Austin. He is also one of the very few artists to have been played every Local & Live festival.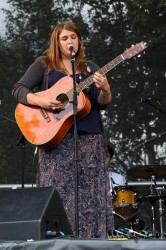 click to enlarge
Local songstress Josie Lee has established herself as one of the leading female artists at the Grey Lady. Her haunting vocals carry a unique pure tone that is full of atmosphere and feeling. She has produced a distinct medley of contemporary, melodic songs with influences such as Jeff Buckley, Tori Amos, Joni Mitchell and Nirvana. She originally started out as a solo artist playing regularly at various local Tunbridge Wells venues and has performed here at the show previously as a duo. Josie started university at Falmouth in late September 2008 where she is reading English and creative writing although she fully intends to keep her songwriting and singing ticking along in the process!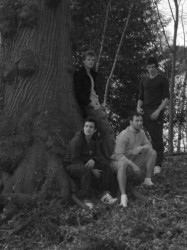 click to enlarge
'Architect Effect' are a four piece band based in Tonbridge, Kent. The boys are all in their last year of the 6th form at the Judd School and they are aged between 17 and 18. The band have been together for a year and have been experimenting with their genre, finding that despite doing several gigs at the forum they did not feel at home with the heavier rock sound of the venue. Recently the boys have turned their attention to playing acoustic music with a much more relaxed sound to it. Writing some new songs and also altering some of their old songs to fit the acoustic genre, the band now has a number of original songs and also a selection of covers under their belts.
'Architect Effect' are currently in the process of recording a few of their own songs, and hope to get CDs with their music made available to people in the local area. They are also playing as many gigs as they can to increase their experience. After finishing school for the last time in June, the boys hope to focus on recording and doing as many gigs as possible at venues like The Grey Lady so that their music is heard by a wide range of people across the area. The boys have hopes of doing a small tour of Britain later this summer.