The Grey Lady Music Lounge, Sunday 11th April 2010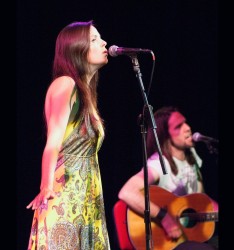 click to enlarge
Formed in 2010, Kent based folk/country artists The Breretons are set to emerge on the London music scene this year with a string of live dates and a debut album scheduled for release in the Autumn. Born from the ashes of London based rock outfit The Original Sinners, the brother/sister duo Marc and Charlotte are returning to their folk roots, playing heartfelt story telling songs of rare poetic quality. Their haunting harmony vocals are accompanied by Alex Metcalfe (piano), Kirsty Mangan (violin), Jim Cox (drums) and Pete Clements (bass).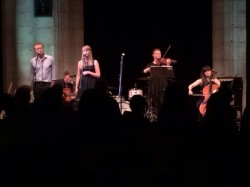 click to enlarge
Singer-songwriter, Paul Dunton leads his own unique cross-over orchestra providing an atmospheric fusion of alternative and pop with a classical twist. Paul & his Orchestra take influences from varying modern day artists such as Pink Floyd, Elbow, ELO, Turin Brakes, Massive Attack, Damien Rice and contemporary composers such as Samuel Barber, Ludovico Einaudi, John Barry and Hans Zimmerman. The Orchestra performs Paul's own compositions and a varied selection of uniquely arranged standards from a wide range of artists. The line-up of 8 violins, 4 cellos, guitar, flute, bass and percussion accompanies Paul on vocals and piano, joined by his lead vocalists, Charlotte Andrew and Poppy Raine. Paul and his Orchestra regularly perform at concerts, festivals and private events throughout the UK and internationally, including headlining the Theatrium Wilhelmstraße Festival in Wiesbaden, Germany and an 8 state tour of the USA which culminated in a spectacular roof-top performance on top of the New York Strand Hotel. Increased attention and success led to the orchestra being featured on BBC Radio 2 by Joan Armatrading with interviews and airplay of one of Paul's songs, 'Don't Forget'. This led to Paul supporting Joan Armatrading on five occasions during her recent UK tours.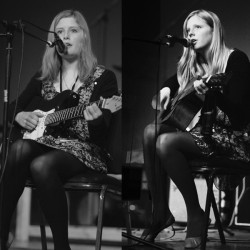 click to enlarge
The Lollies are a two piece acoustic girl band filled with harmonies. They have been playing together since school where they wrote their first song, 'Pregnant Wigs' sitting cross-legged in their starched school uniforms on a
hot summers day. They have played gigs and concerts in many local pubs and venues, building up a following and gaining experiences.
The band members, Sarah and Lauren are enthusiastic about making a career out of music and have been working hard to promote themselves. With their mixture of up-beat rhythmical tunes and finger-picking calming melodies, you are sure to hear a new encapsulating style of music.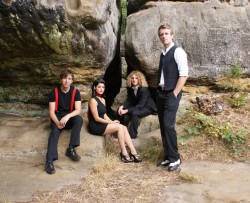 click to enlarge
Virgin Soldiers is an eclectic group of musicians who share a passion to create innovative music. One of the band's unique selling points is the incredible rhythm and energy of the music – achieved without the use of a drum kit - and unable to find a genre that fits their music they have created their own, Strock.
Formed in the summer of 2009 by singer/guitarist/songwriter James Beeny the band creates a unique sound. James loved the idea of combining contemporary with classical instruments and had a head full of violin, viola and cello parts, but like many self-taught musicians was unable to put the music down on paper. He was lucky enough to meet Mike Parkin, a classically trained violinist, who was able to write down James' sometimes unorthodox ideas and together they started gigging in London and the South of England with a girl singer, a bass player and a number of cellists and violinists. In 2010 they were joined by bass player James Luke, singer/pianist/songwriter Gina Georghiou and viola player John Hinchliffe. But it wasn't until 2011 that the line-up was finally complete when James met cellist Hannah Masson on a station platform and asked her if she wanted to join the band. Hannah, who was studying at the Royal College of Music became the final piece of the puzzle. They now all work together to produce the sound that is uniquely Virgin Soldiers.
Virgin Soldiers will be appearing live on the main stage at the Good Weekend Festival in Hampshire on Saturday July 23 and at Local & Live on Monday August 29.