The Lollies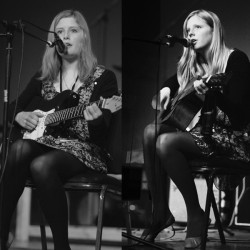 click to enlarge
The Lollies are a two piece acoustic girl band filled with harmonies. They have been playing together since school where they wrote their first song, 'Pregnant Wigs' sitting cross-legged in their starched school uniforms on a
hot summers day. They have played gigs and concerts in many local pubs and venues, building up a following and gaining experiences.
The band members, Sarah and Lauren are enthusiastic about making a career out of music and have been working hard to promote themselves. With their mixture of up-beat rhythmical tunes and finger-picking calming melodies, you are sure to hear a new encapsulating style of music.
Last played:
The Grey Lady Music Lounge, Sunday 11th April 2010
Virgin Soldiers, The Lollies, The Paul Dunton Ensemble, The Breretons