Virgin Soldiers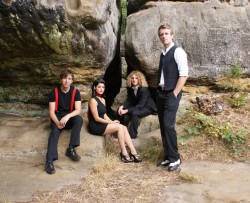 click to enlarge
Virgin Soldiers is an eclectic group of musicians who share a passion to create innovative music. One of the band's unique selling points is the incredible rhythm and energy of the music – achieved without the use of a drum kit - and unable to find a genre that fits their music they have created their own, Strock.
Formed in the summer of 2009 by singer/guitarist/songwriter James Beeny the band creates a unique sound. James loved the idea of combining contemporary with classical instruments and had a head full of violin, viola and cello parts, but like many self-taught musicians was unable to put the music down on paper. He was lucky enough to meet Mike Parkin, a classically trained violinist, who was able to write down James' sometimes unorthodox ideas and together they started gigging in London and the South of England with a girl singer, a bass player and a number of cellists and violinists. In 2010 they were joined by bass player James Luke, singer/pianist/songwriter Gina Georghiou and viola player John Hinchliffe. But it wasn't until 2011 that the line-up was finally complete when James met cellist Hannah Masson on a station platform and asked her if she wanted to join the band. Hannah, who was studying at the Royal College of Music became the final piece of the puzzle. They now all work together to produce the sound that is uniquely Virgin Soldiers.
Virgin Soldiers will be appearing live on the main stage at the Good Weekend Festival in Hampshire on Saturday July 23 and at Local & Live on Monday August 29.
Last played:
The Grey Lady Music Lounge, Sunday 25th September 2011
Nick Wilson, KP and Squizz, Zoe Konez, Virgin Soldiers