The Grey Lady Music Lounge, Wednesday 11th November 2009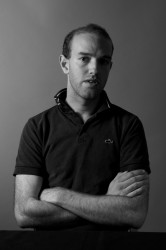 click to enlarge
Rob, musically, is the sum of his parts – to pay the bills he edits and writes for music and literary publications in Essex and San Francisco. Coupled with the taint of an on-again off-again pop band in New York and regular acoustic dalliances with The Grey Lady, the resultant set lists are a little too smug with the word play (see this bio) and a little too catchy with the sing-alongs. He's not one to stick to a style for long, but lately has found himself heavily influenced by Evan Dando, Failure and right now The Hurricane himself. He's also planning to get a little jazzy this time around.
Finding the concept of singing protest songs in Tunbridge Wells comically abhorrent, Rob instead opts to further wear the much-travelled road of Stuff That Concerns Women and Love, the lack of subject originality adding a touch of endearing desperation to his vocals. He does jokes, too. Just not good ones. :(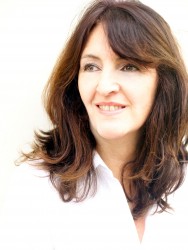 click to enlarge
Singer/songwriter Helen Glavin is from Southern Ireland and now lives in East Sussex. She was classically trained at the Guildhall School of Music and Drama and has worked as a musician and composer in the worlds of music and theatre. Her theatre Productions include being the composer/ musical director for 'From the Mississippi Delta' – Young Vic and the Contact Theatre, Manchester. 'Carrington'- Chichester Festival Theatre.
She composed the music for the opera version of the children's classic 'The Secret Garden', which did an acclaimed national tour. TV work includes music for the BBC documentary series 'Edge of life'. Helen has combined live performing work as a soloist and in bands with recording.
In 2006 she produced a solo album entitled 'To the Flame'. It was recorded at Doz Studios and sound engineered by the sadly missed Ollie Nicholls. Currently Helen is a member of the Amsterdam based group 'The Alchemysticals'. She has recorded a solo piano album 'Leo Rising' and recently launched a duo with multi instrumentalist Dirk Campbell. Her influences stem from Celtic, jazz & classical.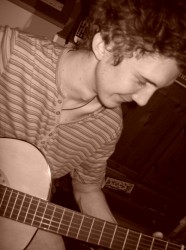 click to enlarge
Tonbridge-based singer/songwriter Ben Sales has established himself locally, and having played at the Forum supporting a Local band called 'The Riders' and attending open mic nights, he has received positive feedback from his live performances. Ben delivers a style, which is both edgy and expressive with thought provoking lyrics and engaging melodies.
He learned the guitar from a young age and has been writing songs from the age of 14. His songs reflect on his experiences of life so far, from being a teenager, the break up of his parents and the problems that people are faced with everyday. His influences include Matchbox Twenty, Goo Goo Dolls, The Killers, Feeder, Stereophonics, Snow Patrol, Muse and Radiohead.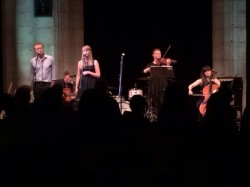 click to enlarge
Singer-songwriter, Paul Dunton leads his own unique cross-over orchestra providing an atmospheric fusion of alternative and pop with a classical twist. Paul & his Orchestra take influences from varying modern day artists such as Pink Floyd, Elbow, ELO, Turin Brakes, Massive Attack, Damien Rice and contemporary composers such as Samuel Barber, Ludovico Einaudi, John Barry and Hans Zimmerman. The Orchestra performs Paul's own compositions and a varied selection of uniquely arranged standards from a wide range of artists. The line-up of 8 violins, 4 cellos, guitar, flute, bass and percussion accompanies Paul on vocals and piano, joined by his lead vocalists, Charlotte Andrew and Poppy Raine. Paul and his Orchestra regularly perform at concerts, festivals and private events throughout the UK and internationally, including headlining the Theatrium Wilhelmstraße Festival in Wiesbaden, Germany and an 8 state tour of the USA which culminated in a spectacular roof-top performance on top of the New York Strand Hotel. Increased attention and success led to the orchestra being featured on BBC Radio 2 by Joan Armatrading with interviews and airplay of one of Paul's songs, 'Don't Forget'. This led to Paul supporting Joan Armatrading on five occasions during her recent UK tours.