Helen Glavin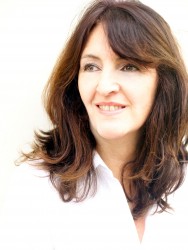 click to enlarge
Singer/songwriter Helen Glavin is from Southern Ireland and now lives in East Sussex. She was classically trained at the Guildhall School of Music and Drama and has worked as a musician and composer in the worlds of music and theatre. Her theatre Productions include being the composer/ musical director for 'From the Mississippi Delta' – Young Vic and the Contact Theatre, Manchester. 'Carrington'- Chichester Festival Theatre.
She composed the music for the opera version of the children's classic 'The Secret Garden', which did an acclaimed national tour. TV work includes music for the BBC documentary series 'Edge of life'. Helen has combined live performing work as a soloist and in bands with recording.
In 2006 she produced a solo album entitled 'To the Flame'. It was recorded at Doz Studios and sound engineered by the sadly missed Ollie Nicholls. Currently Helen is a member of the Amsterdam based group 'The Alchemysticals'. She has recorded a solo piano album 'Leo Rising' and recently launched a duo with multi instrumentalist Dirk Campbell. Her influences stem from Celtic, jazz & classical.
Last played:
The Grey Lady Music Lounge, Wednesday 11th November 2009
The Paul Dunton Ensemble, Ben Sales, Helen Glavin, Rob Sandall