Boxing Day Special show, Thursday 26th December 2019
This will be a ticket-only show. Tickets £10, email paul@pauldunton.co.uk. (Card or bank transfer payment available).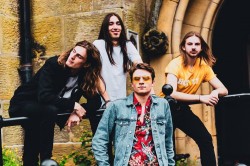 click to enlarge
Paul Crisp, Billy Birjukov, Josh Brice, Jasper Morris – A vibrant, guitar-based indie quartet from Kent, consisting of 4 tea-addicted, instrument-wielding, flamboyant adolescents…
Having formed on a lonely Valentine's Day in 2016, Suncharmer have been building a loyal fan base and have been attracting the attention of various festivals and venues across the country.
All four members work to create high-energy, driving indie sounds with colourful melodies and psychedelia-infused poetry that draws influence from Jimi Hendrix, T.Rex, David Bowie and Arctic Monkeys. Josh Brice joined in December 2016 to add a new level of strength & creativity and introduced his gloriously shimmering surf-like guitar. The band quickly began to develop their much grittier yet melodic sound, and were soon asked to play events such as The Vicar's Picnic, Woodlands Festival, Unfest, IPO Festival and Fat Tuesday in Hastings. Suncharmer also supported rising indie stars The Magic Gang in July.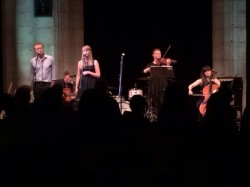 click to enlarge
Singer-songwriter, Paul Dunton leads his own unique cross-over orchestra providing an atmospheric fusion of alternative and pop with a classical twist. Paul & his Orchestra take influences from varying modern day artists such as Pink Floyd, Elbow, ELO, Turin Brakes, Massive Attack, Damien Rice and contemporary composers such as Samuel Barber, Ludovico Einaudi, John Barry and Hans Zimmerman. The Orchestra performs Paul's own compositions and a varied selection of uniquely arranged standards from a wide range of artists. The line-up of 8 violins, 4 cellos, guitar, flute, bass and percussion accompanies Paul on vocals and piano, joined by his lead vocalists, Charlotte Andrew and Poppy Raine. Paul and his Orchestra regularly perform at concerts, festivals and private events throughout the UK and internationally, including headlining the Theatrium Wilhelmstraße Festival in Wiesbaden, Germany and an 8 state tour of the USA which culminated in a spectacular roof-top performance on top of the New York Strand Hotel. Increased attention and success led to the orchestra being featured on BBC Radio 2 by Joan Armatrading with interviews and airplay of one of Paul's songs, 'Don't Forget'. This led to Paul supporting Joan Armatrading on five occasions during her recent UK tours.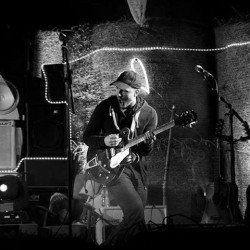 click to enlarge
"Steffan James, a singer songwriter with a great voice for blues and acoustic music" - Wild Acoustic.com "Music that makes you feel something" - Best of British Unsigned
Steve "Steffan James" McCormack, a South London-based singer songwriter, found his sound travelling the USA. Heavily influenced by the blues and acoustic world of California, he has toured the world as a guitarist, singer and songwriter for many an act. In late 2012 he started work on his own solo project.
The first two singles "Inside Out" and "She Knows" gained a lot of independent radio play in The States and across Europe and his debut album "The Truth" is available on iTunes.
He has been touring relentlessly across the UK gaining supporting and accompanying musicians, sharing the stage with Josh Doyle, Joan Armatrading, Charley Blue, Bela Takes Chase and many others. His new ep is "Barricade", featuring an amazing live band of musicians, Charlotte "Charley Blue" Andrew, Steve Bassett, Andrew Vickery and Ashley Rushman.
Hitting the road again in 2015; keep your eyes peeled.