The Grey Lady Music Lounge, Sunday 11th August 2019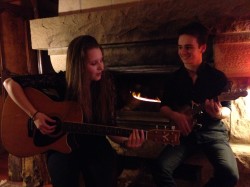 click to enlarge
One half English, one half French and coming from the south of Brittany this duo have been playing together and writing songs for about a year. Only fifteen years old, both grew up surrounded by hard rock and blues such as ACDC, Etta James, Otis Redding and Led Zeppelin. Drawing their influence from this childhood, Thibault and Kat have also added the more pop and indie rock tones that reflect their personalities and current musical interests.
Having started writing songs at the age of twelve, inspired by teachers (such as Jon Drury) at Sevenoaks School, Kat then went on to leave England to study in France and subsequently meet Thibault, who, being a drummer, guitarist, bassist and ukeleist, helped develop Kat's already existent songs and write new ones.
They have performed together in festivals such as "La Fête de la Musique" in Brest, concerts in the Archipel in Fouesnant, and "Les Jeudis de Pleuven". Before moving to France, Kat performed at Sevenoaks school, and competed in the Open Mic UK competition.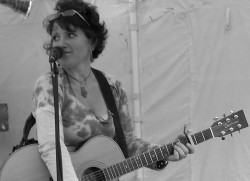 click to enlarge
Lucy Jarrett is an accomplished and lauded singer-songwriter and recording artist, with five albums to her name.
Singing before she could talk and playing guitar by the age of 10, Lucy began her professional career in South West England in 1997 and was soon gigging her way around the UK and Europe's Folk and Country Circuits. Inspired by such heroes as Billy Holiday, Joni Mitchell, Bonnie Raitt, Paul McCartney, Jimi Hendrix, James Taylor, Dean Friedman, David Bowie, Paul Simon, Elvis Costello, John Martyn, Suzanne Vega, Martin Simpson, Steeleye Span, and Alison Krauss to mention but a few.....
Lucy performs her original songs, as well as masterfully arranging traditional blues, soul, folk and any other genre of song that takes her fancy. She performs a comprehensive and electric array of familiar and long-lost gems to engage, entertain and amuse any audience.
Lucy has accompanied and opened for many well-known artists as diverse as The Stranglers, Julie Felix, Billie-Jo Spears, Sarah Jory, Scooter Lee and The Wurzels. In addition to showcasing at many notable venues, Lucy has performed on network television and has been a featured artist on several major cruise liners.
We're excited to announce that Lucy's second album of original songs is currently in production.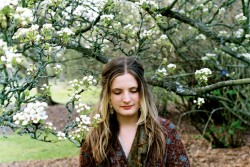 click to enlarge
Sophie has been playing music and writing her own songs for the last 9 years. Many of her songs are inspired by her own life experience and spiritual lessons that she has learned upon the way. Her music has been described as 'ethereal, spiritual, folk-like, other-worldly, healing and powerful'. Over the years she has performed at various festivals and cities across both the UK and America.