Kat White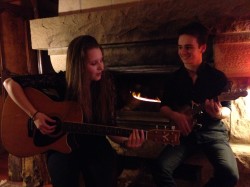 click to enlarge
One half English, one half French and coming from the south of Brittany this duo have been playing together and writing songs for about a year. Only fifteen years old, both grew up surrounded by hard rock and blues such as ACDC, Etta James, Otis Redding and Led Zeppelin. Drawing their influence from this childhood, Thibault and Kat have also added the more pop and indie rock tones that reflect their personalities and current musical interests.
Having started writing songs at the age of twelve, inspired by teachers (such as Jon Drury) at Sevenoaks School, Kat then went on to leave England to study in France and subsequently meet Thibault, who, being a drummer, guitarist, bassist and ukeleist, helped develop Kat's already existent songs and write new ones.
They have performed together in festivals such as "La Fête de la Musique" in Brest, concerts in the Archipel in Fouesnant, and "Les Jeudis de Pleuven". Before moving to France, Kat performed at Sevenoaks school, and competed in the Open Mic UK competition.
Last played:
The Grey Lady Music Lounge, Sunday 11th August 2019
Sophie Nevill, Lucy Jarrett, Kat White