The Grey Lady Music Lounge, Sunday 30th June 2019
This will be a two-act show.
Infrared are a newly formed band from East Sussex that have been playing since their first gig at the Bedford in London on September 22nd. Their music is very diverse and is influenced by artists such as David bowie, Queen, Muse and many more. The songs are written by lead singer, Lachlan Daly who is currently in his 2nd year of a Songwriting Degree at BIMM London. The lead guitar parts are written by Jimmy Latham who has been studying guitar since he was 7. The rest of the band consists of Will Buss on Drums and percussion; Cameron Preece on Bass guitar; Tass Alder on Backing Vocals and Kaitlyn Johnson on Keys. Their music has a very big sound with influences of Rock, Folk and Musical Theatre.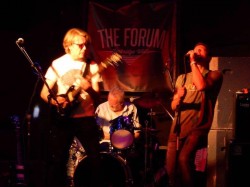 click to enlarge
Having lived through every era of rock from folk, blues and glam, to prog, punk and indie, Higgs and the Bosons mine a very broad seam of influences. Their hard-nosed, pub-rock songs are anthems to the bewildering realities of the world we all struggle to understand. They say age brings wisdom, but, as their songs show, the only thing we really learn is how little we know. So with bold riffs and acerbic lyrics, Higgs and the Bosons attempt to grab life by the throat and demand answers to the questions not covered by FAQs. With influences as broad as The Small Faces, Nirvana and The Black Keys, don't expect to sit quietly through their set; your foot-tap reflex won't allow it.