The Grey Lady Music Lounge, Wednesday 19th June 2019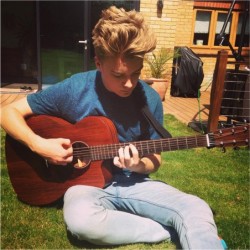 click to enlarge
Jack has been tapping his feet to the beat since before he could even walk or talk. His younger years have been full of music, dance and drama performances – if he wasn't tinkling the ivories or singing for his supper, he was on stage rocking to the rhythm.
Now seventeen, his creative focus is firmly on his guitar and song writing passions. Inspired by musicians such as Ben Howard, Lewis Watson and James Bay, Jack picked up the guitar around a year ago and has not stopped playing since. Enthused by a number of poignant events over a short period, Jack's songs have that personal touch while at the same time expressing sentiments with a broader reach.
Though he is certainly no stranger to the Local & Live festival, having supported it in one way or another, this will be his debut guitar and pub performance.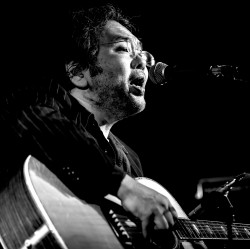 click to enlarge
Saiichi Sugiyama is a talented singer-songwriter who performs in his band in solo acoustic slots to add variety, but also, separately, he appears for whole solo acoustic shows. He has, in this format, supported Josh Smith (US) and Ariel Posen (Canada), including an appearance in 2018 at one of London's swish music spots, Under The Bridge, where there was a queue for sign ups to his emailing list.
Saiichi Sugiyama solo plays his own songs, some written with Cream lyricist Pete Brown, or hand-picked covers. They can be ballads, light and sometimes wistful, or brisk, walking-tempo numbers, ground out with brisk guitar and vocal ferocity. There are traces of Classic Rock, Folk, Blues, Soul, Jazz, Americana in a Saiichi Sugiyama solo show. Specific inspirations include artists such as Robert Johnson, producing Saiichi's gripping cover of Crossroads. More inspiration comes from Crosby, Stills, Nash & Young and Paul McCartney and George Harrison.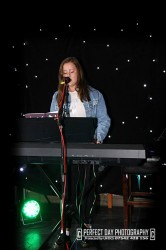 click to enlarge
Milly Rusling is a fifteen year old singer songwriter from Tonbridge, Kent. Songwriting since the age of twelve, her style draws on contemporary influences such as Gabrielle Aplin, Emile Sande, Damien Rice and Lauren Aquilina. Her largely piano-based songs combine accessible melodies and simple lyrics, and are delivered with soulful, haunting vocals. She has performed regularly in the local area over the last twelve months receiving some great reviews along the way. In the next year she hopes to spend time recording material for release and performing her songs; the thing she loves most.