The Grey Lady Music Lounge, Sunday 17th March 2019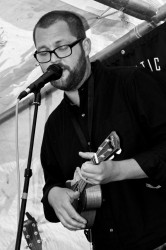 click to enlarge
My name is Steve Hewitt, I'm 29years old, and I'm a singer/singer songwriter based in Edenbridge, Kent.
My love of music came about after listening to Buddy Holly when I was 14, but my approach to music changed drastically when I heard David Gray's White Ladder for the first time; that's when I put the electric guitar down and bought my first acoustic guitar and started to write.
My aim has always been to write lyrics that have meaning and purpose that the listener can relate to and empathise with.
To best describe my genre, it would be acoustic soul pop, with hints of
blues/folk and indie.
My main influences started at the already mentioned
Buddy Holly, on to David Gray, Bob Dylan, John Legend and Fink.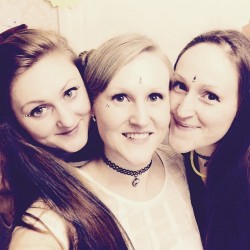 click to enlarge
The Tringham sisters came to life in a small house in South London where we were all born. We later moved to the Kent, with our brother where we grew up. We have always loved singing together and were encouraged to do so from a young age at every birthday, wedding and christmas party we attend, by our ever supportive and most loyal fans to date, our family. We love a bit of everything, from UK top 40 to Elvis Presley and will sing anything that sounds good with a three part harmony. We finally decided to venture out into the public gaze this year and are hoping that you enjoy hearing our songs, as much as we enjoy singing them.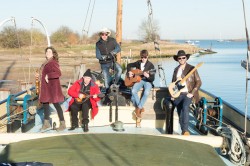 click to enlarge
Vicarage Lane is a 5 piece band who play original songs with an Americana/folk influence combining a rich flowing sound with three-part harmonies, lap steel guitar, mandolin, violin and drums.
The band is named after a village lane they all have connections to. Kate Hopper (piano, violin and harmonies) and Jon Gransden (lead guitar and harmonies) are brother and sister and lived on Vicarage Lane. Lead singer and guitarist Ray Arnold grew up in the next road, Bob Portman (bass, lap steel guitar) lives opposite Ray's parents and Tommy Arnold(Drums) as Ray's son is the remaining generational link. As Jon and Kate's childhood home, various connotations of the band rehearsed in the garden shed over the years.
Ray writes most of the songs and has a musical passion for anything melodic overcoming his childhood shyness to take on lead vocals. He brings song ideas to the band and they meet every week to work on the arrangements harmonies to finish a piece for performance. He is relishing the chance to be involved in such a creative environment as Vicarage Lane and fill a void in country music that they believe got lost somewhere along the way. All five members have a wide musical experience to draw inspiration from which is echoed in the the richness of both their harmonies and the overall sound.
Their new EP 'Too Many Years' is available on CD Baby and for sale at gigs.