Vicarage Lane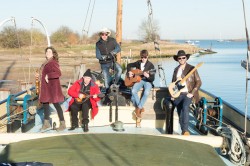 click to enlarge
Vicarage Lane is a 5 piece band who play original songs with an Americana/folk influence combining a rich flowing sound with three-part harmonies, lap steel guitar, mandolin, violin and drums.
The band is named after a village lane they all have connections to. Kate Hopper (piano, violin and harmonies) and Jon Gransden (lead guitar and harmonies) are brother and sister and lived on Vicarage Lane. Lead singer and guitarist Ray Arnold grew up in the next road, Bob Portman (bass, lap steel guitar) lives opposite Ray's parents and Tommy Arnold(Drums) as Ray's son is the remaining generational link. As Jon and Kate's childhood home, various connotations of the band rehearsed in the garden shed over the years.
Ray writes most of the songs and has a musical passion for anything melodic overcoming his childhood shyness to take on lead vocals. He brings song ideas to the band and they meet every week to work on the arrangements harmonies to finish a piece for performance. He is relishing the chance to be involved in such a creative environment as Vicarage Lane and fill a void in country music that they believe got lost somewhere along the way. All five members have a wide musical experience to draw inspiration from which is echoed in the the richness of both their harmonies and the overall sound.
Their new EP 'Too Many Years' is available on CD Baby and for sale at gigs.
https://store.cdbaby.com/cd/vicaragelane2
Last played:
The Grey Lady Music Lounge, Sunday 17th March 2019
Vicarage Lane, The Tringham Sisters, Steve Hewitt