The Grey Lady Music Lounge, Wednesday 30th January 2019
(TBC) Headline Act: Alana Hazzard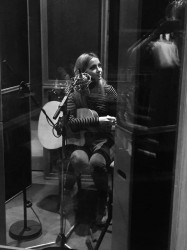 click to enlarge
To be confirmed.
Alana's presence is truly mesmerising. Alana delivers an abundance of heartfelt lyrics which create a meaningful and powerful work of art. Each song has a lasting emotional affect which deeply connects with the audience on a personal level. Alana's unique tone and faultless vocals, coupled with her ability to generate a captivating melody from her emotions and personal experiences, produces a hypnotic experience for the audience when she sings. Alana is an artist with exceptional talent and skill who manages to leave an audience lost for words, purely by the sound of her voice and lyrical creativity.
''Alana Hazzard is a truly captivating artist who writes beautifully crafted heartfelt songs laced with pop sensibilities and soulful roots"
Paul Dunton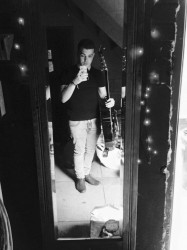 click to enlarge
Starting to play guitar and sing at the age of twenty, originally buying his first guitar as a distraction from doing college assignments, Ryan is quickly making a name for himself in the local music scene , mixing soul, R&B, indie folk and country.
Hailing from southborough this local singer will have you moving your feet and dancing along. Singing popular covers, chart and his own soulful songs, Ryan weeks is definitely a name to remember.
He's usually found gigging at venues in Tonbridge and Tunbridge Wells, on a one-man mission to prove that Kent has soul. So come along and have a great time listening and dancing along to the soulful tones of Ryan Weeks.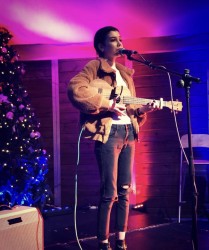 click to enlarge
I'm Molly Walford A.K.A Biddle, a 14 year old singer songwriter from Tunbridge Wells. I write indie/pop style acoustic music on a ukulele and I am also learning basics on guitar and piano. I got my first ukulele in January of 2018 and from there I have taught myself how to play from online tutorials. I wanted to start learning the instrument after listening to the artists Dodie and Grace Vanderwaal who also write amazing originals on the ukulele, they are still big inspirations of mine to this day. After the loss of my dad mid 2017, my mental health issues began to develop. It is those that inspire many of my songs as I enjoy writing about emotions and getting across the message that other people in the same boat aren't alone. Over the short time I have seriously taken up music I would have to say that two of my biggest achievements are playing the Tunbridge Wells Forum and raising just under £300 for Cancer Research in memory of my dad from a song I wrote him for Fathers Day. In the future I would love to be able to play a festival and it would be the dream to support a well known artist that has inspired me and my music.