The Grey Lady Music Lounge, Wednesday 13th June 2018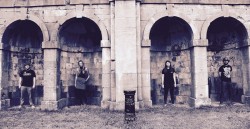 click to enlarge
​The Secret Crowd are a fun and lively four piece from North Kent, playing a mix of feel-good, pop/ rock originals and covers. Straight from playing a range of popular venues across the capital this summer, including the iconic 'water rats' and a headline slot at New Cross' 'Amersham Arms', the group look forward to play some more local venues towards the latter part of 2017.
Their line up consists of Sophie, as lead vocals and rhythm guitar, Jack on bass, Grace on keyboard, ukulele and trumpet and Matt playing drums. Their sound provides a depth of versatility, from relaxed acoustic settings, to energetic and upbeat ambiences, guaranteed to captivate any audience.
To end 2017, the 4 piece have started recorded their recent EP, with Keston Cobblers Frontman, Matt Lowe and hope to release this in the near future!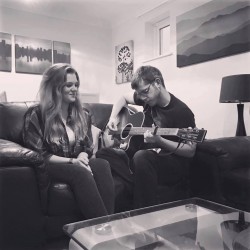 click to enlarge
Leo&Tingley are Chasing Shadows, a newly formed acoustic duo from East Sussex. Charlotte Tingley can most often be found at her piano, performing heart-rending covers and originals and covers. Her gentle, melodious tones can turn to powerful ballards in a moment. When not doing music, Charlotte's passion is in film, while finding the time to manage an independent cinema in St Leonards, Kino-Teatr. Leo Snook is a reformed rocker who has returned to his folk and acoustic roots in the last few years. Main guitarist for the band, he combines rock, folk and jazz influences into his playing and singing. His writing is almost exclusively sad songs about the sea. Their joint sound is still very new, but they hope to win crowds over with their unique sound, blend of styles and sides enjoyment of what Chasing Shadows do.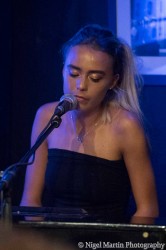 click to enlarge
Imy Laurie is a eighteen year old singer song writer who has been singing at various open mic gigs since she was twelve and also furthered her musical instrument abilities in guitar and piano. From her classical training at school, Imy has achieved all of her singing grades, but she has found her interest lies in a folk and acoustic style of singing which was inspired from artists such as Laura Marling and Ryan Adams. Her heartfelt songs and unique singing tone is what makes her distinctive as she aspires to succeed in her music ambitions as she begins at BIMM Bristol in September to start her vocals degree and continue trying to develop her talent.
(TBC) Artist