The Secret Crowd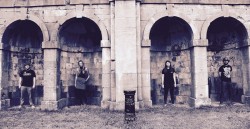 click to enlarge
​The Secret Crowd are a fun and lively four piece from North Kent, playing a mix of feel-good, pop/ rock originals and covers. Straight from playing a range of popular venues across the capital this summer, including the iconic 'water rats' and a headline slot at New Cross' 'Amersham Arms', the group look forward to play some more local venues towards the latter part of 2017.
Their line up consists of Sophie, as lead vocals and rhythm guitar, Jack on bass, Grace on keyboard, ukulele and trumpet and Matt playing drums. Their sound provides a depth of versatility, from relaxed acoustic settings, to energetic and upbeat ambiences, guaranteed to captivate any audience.
To end 2017, the 4 piece have started recorded their recent EP, with Keston Cobblers Frontman, Matt Lowe and hope to release this in the near future!
Last played:
The Grey Lady Music Lounge, Sunday 28th October 2018
Artist (TBC), Sophie Harmsworth (of The Secret Crowd), Sweetheart, Jon Grayson