The Grey Lady Music Lounge, Wednesday 6th June 2018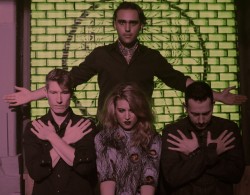 click to enlarge
Throughout the last 2 years 'I Am Aquitaine' have developed a reputation as a formidable live act through extensive gigging; the band continue to work hard, travelling across the UK to convert new supporters to their brand of sultry blues laden pop and dancey grooves.
2016 has seen the group play numerous seminal venues in London and across the South of the UK including Barfly Camden, The Monarch Camden, The Forum in Tunbridge Wells and most recently a capacity headline show on bonfire night at The Dublin Castle Camden. Choice festival dates included 'Aberjazz' in Wales, two consecutive years at 'Mudfest' supporting Toploader, Goldie Lookin' Chain and Scouting for Girls, as well as a prominent slot playing the Bimble Inn stage at Beautiful Days.
In early Summer 2017 their debut single 'Find Me' will be released alongside some of their other upbeat party tracks, which were recorded at Park Studio Wembley with Tobin Jones (The Pearl Harts, Powell). Demos of these forthcoming tracks were pre-tracked at DOZ studio in preparation for these sessions; these demos are currently streaming from their Soundcloud page. Prior to that there will be a vinyl-only release of a live session tracked in the Granary Studios for a special collaborative project, which saw the band revisiting the use of analogue desks and tape. This session was raw and incorporated full live takes; they sought to capture the essence of I Am Aquitaine's live performances.
'I Am Aquitaine are a good time rock band encompassing the best of Hendrix, Fleetwood Mac and Blondie…. However don't be fooled by the nods to the past, with front woman Elle at the helm and a tight band behind her, they are original and look firmly to the future. Go see them live.' - Phil Harrison, BBC Radio
'There's a bit of Jimmy Hendrix on lead guitar…She reminds me of Stevie Nicks.' - James Whale, BBC Radio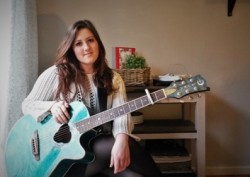 click to enlarge
Becky is a fifteen-year-old singer-songwriter from Dartford. She has been performing for a year at local Open Mic events.
Writing and performing a catalogue of her own original material, Becky blends acoustic guitar melodies with Rock, Pop and a unique vocal. She writes with dynamics and versatility. Becky's current live set consists of a mix of her original material and covers, ranging from Ballads through to Rock. Her set displays a range of musical genres, and showcases her love for music and lyrics, in a mature writing style.
Becky is still at school and uses her music as a break from her studies. For three years she has been having vocal tuition from local vocal coach Julie Wright. Initially, she was focusing on musical theatre, gaining a grade four distinction in her musical exams and performing in Julie's annual showcase event.
Regularly, she performs at Open Mic nights which lead to her first gig at a pup in Eltham. Becky also succeeded in progressing through two area performance rounds of the 2015 UK Open Mic competition performing at "Dingwalls" in Camden, subsequently making it through to perform in the semi-finals of the competition at The Hayes Theatre in Middlesex. Becky enjoys playing covers from her musical influences such as "Daughter" and is now looking to developing her own catalogue of personal, original songs.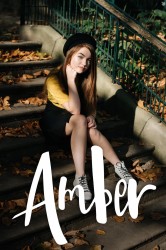 click to enlarge
14-year-old singer/songwriter Amber Titchener has been performing at local Open Mic's events since the age of 8 when she taught herself to play the Guitar/Keyboard & Ukulele! Her love for singing has led her to perform at the World famous Metropolis Studios and more recently at the UK's biggest Music Industry network event by Notting Hill Music at Tileyard Studios in London. As well as being the youngest artist to ever perform there, her performance led to offers of work with a plethora of top Producers and songwriters. Consequently, Amber is now in the studio co-writing with top artist/songwriter Conner Reeves, songwriter Darren Alboni (Ella Henderson) and top producer/songwriter Reece Pullinger ENV Music (David Guetta/Axwell), undertaking writing and recording sessions.