Becky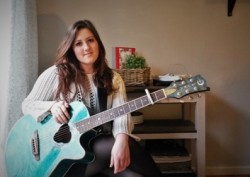 click to enlarge
Becky is a fifteen-year-old singer-songwriter from Dartford. She has been performing for a year at local Open Mic events.
Writing and performing a catalogue of her own original material, Becky blends acoustic guitar melodies with Rock, Pop and a unique vocal. She writes with dynamics and versatility. Becky's current live set consists of a mix of her original material and covers, ranging from Ballads through to Rock. Her set displays a range of musical genres, and showcases her love for music and lyrics, in a mature writing style.
Becky is still at school and uses her music as a break from her studies. For three years she has been having vocal tuition from local vocal coach Julie Wright. Initially, she was focusing on musical theatre, gaining a grade four distinction in her musical exams and performing in Julie's annual showcase event.
Regularly, she performs at Open Mic nights which lead to her first gig at a pup in Eltham. Becky also succeeded in progressing through two area performance rounds of the 2015 UK Open Mic competition performing at "Dingwalls" in Camden, subsequently making it through to perform in the semi-finals of the competition at The Hayes Theatre in Middlesex. Becky enjoys playing covers from her musical influences such as "Daughter" and is now looking to developing her own catalogue of personal, original songs.
Last played:
The Grey Lady Music Lounge, Sunday 14th October 2018
Becky (TBC), James Medhurst, Chasing Shadows