The Grey Lady Music Lounge, Sunday 22nd October 2017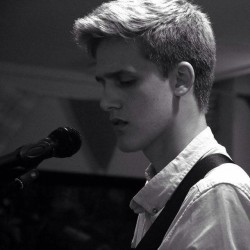 click to enlarge
I have been playing the piano since I was eight and started learning the guitar two years ago. As I improved I found the courage to sing, freeing my passion for writing music. I have an interest in all kinds of music which has helped develop my writing style and I find it very satisfying when I can incorporate and fuse genres together. My sound is mainly acoustic. However I am slowly learning to use a loop station to build more variety into my tracks. I feel that my style of singing is heavily influenced by rock and musical theatre. Although I don't sound like them, Muse are a big influence in my songwriting and are a great inspiration for me. I am currently taking the Diploma Songwriting course at BIMM London followed by the Degree course in September. I have been an onstage performer since I was nine and have performed many solo and band gigs at local venues, school concerts, fairs and my local Diner. I am currently rehearsing in a band for the musical "Grease" in which I play the guitar.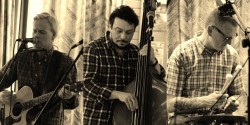 click to enlarge
The Fufkins are a three piece from Kent and Surrey featuring singer/guitarist/songwriter Matt Carr, electric/double bass player Mark Sykes, and Andy Phillips drums/percussion. The Fufkins write thoughtful pop songs, citing influences such as Neil Finn (Crowded House), Difford & Tilbrook (Squeeze), Aimee Mann, and Richard Hawley, among others. The Fufkins are regulars on the Kent and Surrey live, and folk music scenes, playing both acoustic and electric sets. The band have supported the likes of The Blockheads, Modern English, Davis Lindley Mullan (Stackridge), and most recently the great Boo Hewerdine. The Fufkins were featured at the 2015 Tunbridge Wells Local & Live festival. The Fufkins' old school instrumental track "Vincent" has been used as the theme tune for "Pienaar's Politics" on BBC Radio 5 Live since 2012 - listen out for the Fufkins on your radio every Sunday morning at 10am!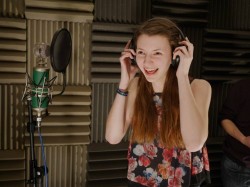 click to enlarge
Hannah is a 17 year old singer-songwriter from Battle, East Sussex. Having gigged with bands from the age of 14 and performed in the West End in the summer of 2015, Hannah is developing as a solo artist with a folk/pop influence and has performed in venues across the South East. She has begun work as a session singer and will shortly be releasing a live, acoustic EP of her own material.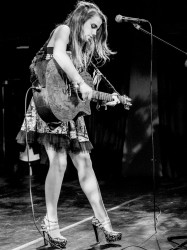 click to enlarge
Zoe first picked up a guitar in 2014 when she decided that she wanted to teach herself how to play. Over the following months, she played guitar for a friend at open mics. On one occasion he could not make it, so Zoe decided she would start singing and playing.
Zoe Zori is now a successful self taught musician and plays the guitar, bass, piano, trumpet, ukulele and she sings.
She is spending the majority of her time on writing lyrically dynamic songs that people of all ages can relate to and enjoy, alongside putting her own spin on both pop and rock covers. Zoe performs regularly at various venues throughout the year.
Zoe has taken part in the national competition OpenMicUK 2016 in which she reached the semi-finals held in Southampton and she also won the Best Original Song Award for the 16+ category.
"Well 99 percent of the time, acoustic supports are timid and disconnected from the audience. So it was super exciting to see someone so full of energy and confidence on stage and I'm pretty sure she changed to go on stage? So that was cool " - Guitarist of The Bold Survive