Zoe Zori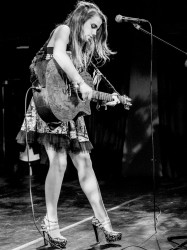 click to enlarge
Zoe first picked up a guitar in 2014 when she decided that she wanted to teach herself how to play. Over the following months, she played guitar for a friend at open mics. On one occasion he could not make it, so Zoe decided she would start singing and playing.
Zoe Zori is now a successful self taught musician and plays the guitar, bass, piano, trumpet, ukulele and she sings.
She is spending the majority of her time on writing lyrically dynamic songs that people of all ages can relate to and enjoy, alongside putting her own spin on both pop and rock covers. Zoe performs regularly at various venues throughout the year.
Zoe has taken part in the national competition OpenMicUK 2016 in which she reached the semi-finals held in Southampton and she also won the Best Original Song Award for the 16+ category.
"Well 99 percent of the time, acoustic supports are timid and disconnected from the audience. So it was super exciting to see someone so full of energy and confidence on stage and I'm pretty sure she changed to go on stage? So that was cool " - Guitarist of The Bold Survive
https://www.youtube.com/channel/UC6Y9T9IaXlE1cRs14yCgB3Q
Last played:
The Grey Lady Music Lounge, Sunday 22nd October 2017
Zoe Zori, Hannah Richards, The Fufkins, Lachlan Daly Band