The Grey Lady Music Lounge, Tuesday 17th October 2017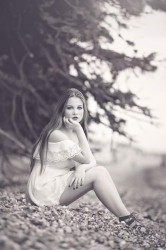 click to enlarge
'Multi-talented' and 'singing from the soul' are a couple of the comments recently applied to this young singer songwriter from Kent. Emily's musical influences span a wide variety of genres and artists from Lana Del Rey and Fleetwood Mac, to Frank Ocean and Hans Zimmer. Emily's music has both an ethereal and expansive feel and she is constantly inspired to develop her unique sound using her classical piano and voice training along with self-taught guitar skills. She has been writing songs since she was thirteen and her passion for songwriting grows with each achievement. Emily now studies music at Goldsmiths University and lives in South East London, where she is further developing her songwriting and enjoying collaborating with other musicians. She is always in the studio, rehearsing with her band, and looking for new venues in which to perform. Following the success of her debut EP Sirens and releasing tracks on iTunes, Emily is working on her second EP and is looking for music management. Sirens EP out now and on iTunes.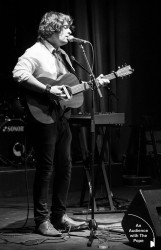 click to enlarge
Whether turning his hand to the studio or the stage, it can be hard to pin Jono Harrison down. It is fair to say that he lives and breathes music in a way that borders on obsession.
Formerly a session musician playing in various bands around London, a mystifying back injury forced him to put away his guitar for nearly two years. He taught himself recording techniques, and delved into albums such as Jeff Buckley's 'Grace' and Nick Drake's harrowing 'Pink Moon'. Upon recovering, he set about writing own song ideas and recording demos, playing dingy bars around London and Brighton to whoever would listen. Six years on, he signed a deal with boutique label 'Which Wolf Wins' and released his eponymous debut album.
Jono subsequently toured the US and and the UK. He co-founded a 28 piece orchestra and joined 80s legends Cutting Crew on keyboard duties, all the while producing other acts and quietly writing in his home studio. As he gathers up influences from wherever he lays his hat, including electronica, trip-hop or post-punk - Jono has been developing a wider, beat-driven sound, soaked in warm synthesisers and chiming guitars, moving on from his former acoustic leanings but still embracing his love of heart-warming melodies.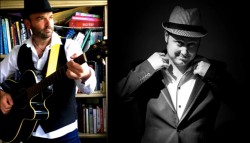 click to enlarge
Clayton & LJ are two accomplished musicians and performers. An acoustic rock and folk duo from Tunbridge Wells Performing 30 minutes of clever catchy originals. Great voices and musicianship.
Clayton and L.J. have consistently been successful in providing the entertainment solutions for various launches, theme evenings and other show packages that a client might require. They pride themselves on partnering with their customers - creating a unique and specific formula that is ultimately more than "just entertainment".
Guy Sharpe is a 17 year old electro-acoustic singer-songwriter, inspired by the likes of Sampha and James Blake. His live performances comprise primarily of piano and vocals, with acoustic arrangements of his songs. But, he does also perform his electro-acoustic tracks live. He is currently working on an EP, and hopes to study composition when he leaves school.