The Grey Lady Music Lounge, Tuesday 18th July 2017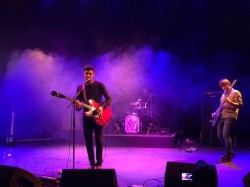 click to enlarge
Bisons can't sing, talk or play music. However, if they could, it probably wouldn't sound like Tunbridge Well's HOTTEST BAND 'Bison.' It would sound more like 'mmphhphphphrrrhahhahahahrhghghghgh'. Luckily, this isn't what Bison sound like. They sound more like a three piece rock band consisting of Charlie Gibson on guitar and vocals, 'Mad' Lewie Roberts on the bass, and Alex 'The Dawg' Cooper on the skins. Inspired by the calm menace of a herd of big horny cows, they play original guitar-driven rock focussing on brooding blues, pop positivity and big ****ing chunky songs. When tasked with writing a band biography, they displayed their infectious sense of punk rebellion by making it incredibly half-arsed. Thankfully, or so they believe, their song-writing chops, stunning looks and collectively great hair makes up for other deficiencies. Will their songs win over a tough Tunbridge Wells crowd? Only you can decide.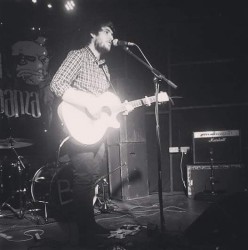 click to enlarge
Paul Monham is a self taught guitarist and singer/songwriter from Kent. Although Paul has been a member of the alt. rock band The Lucky Andersons for several years, his solo material is relatively new. That said, Paul has had plenty of experience playing in a live enviroment having performed all over the south east of England and London. Inspiration for his songs is drawn from several different genres - from brit-pop to hip-hop - and he sometimes uses a loop pedal to give his live performance a fuller sound.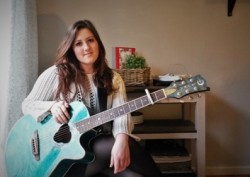 click to enlarge
Becky is a fifteen-year-old singer-songwriter from Dartford. She has been performing for a year at local Open Mic events.
Writing and performing a catalogue of her own original material, Becky blends acoustic guitar melodies with Rock, Pop and a unique vocal. She writes with dynamics and versatility. Becky's current live set consists of a mix of her original material and covers, ranging from Ballads through to Rock. Her set displays a range of musical genres, and showcases her love for music and lyrics, in a mature writing style.
Becky is still at school and uses her music as a break from her studies. For three years she has been having vocal tuition from local vocal coach Julie Wright. Initially, she was focusing on musical theatre, gaining a grade four distinction in her musical exams and performing in Julie's annual showcase event.
Regularly, she performs at Open Mic nights which lead to her first gig at a pup in Eltham. Becky also succeeded in progressing through two area performance rounds of the 2015 UK Open Mic competition performing at "Dingwalls" in Camden, subsequently making it through to perform in the semi-finals of the competition at The Hayes Theatre in Middlesex. Becky enjoys playing covers from her musical influences such as "Daughter" and is now looking to developing her own catalogue of personal, original songs.
(TBC) Artist