The Grey Lady Music Lounge, Wednesday 26th April 2017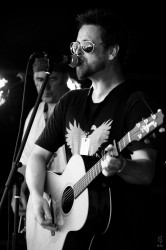 click to enlarge
The Varlies are a homegrown Tunbridge Wells rock band. Formed back in the
early 90s by guitarist, Kev Amos and singer, John Whitehorn, they have
been delighting audiences and listeners alike ever since with their own
blend of music and infectious live performances. The Trinity show is set
to offer a chance to catch the full band in one of their now rare
performances together where they will be performing songs from their last
four albums. With Paul May on drums and Steve Mealing on bass completing
this fantastic line up, this really be one not to be missed. Paul Dunton
Says... "The Varlies are quite simply one of the best bands I have ever
seen live. Their sublime musicianship and infectious melodies underpin
their undoubted ability to create fantastic music. This is band that takes
you on a rollercoaster of emotions! Expect everything from high energy
foot stomping rockin' tunes, funky grooves and hire wire guitar riff's to
beautifully crafted acoustic ballads. John Whitehorne is an exceptional
vocalist, with an incredible range and tone that reminds me of Neil Finn, with shades of Bon Iver's falsetto at times. The band's
live sound is hard to pigeon hole as they have their own swagger and
style, however if you said names such as The Dave Matthew's Band or a
rockier version of Crowded House that would give you an idea!"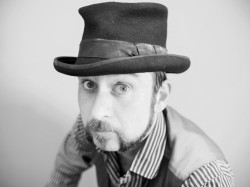 click to enlarge
Chris Piper and Beatrice Gullick are the duo behind the optimistic and bubbly Count Bouncy and The Boho Muso Troop. Chris is an inspired and original singer song writer whose contemporary lyrics about the uncomfortable and pleasurable aspects of our everyday lives create amusement and depth of understanding for those who listen to what he has to say. His guitar and voice is ably supported by double bassist Beatrice who brings syncopated rhythms to the original and poetic lyrics of their songs. Their forte is in creating accessible and punchy Jazz inspired rhythms to hang their entertaining and moving lyrics.
A song such as "Dinner for Two" is typical of their offering, exploring as it does the awkwardness of going on a first date and a man's hopes, dreams and desires both gentlemanly and otherwise in a quirky and recognizable way which never fails to bring a rueful or humorous smile to the corner of people's mouths!
A fresh touch and a hint of classic formats for their upbeat songs with a shuffle make them supremely listenable, inventive and fun and it's easy to forget that these two are accomplished musicians who offer carefully crafted harmonies and deceptively simple melodies to create intimate and entertaining music.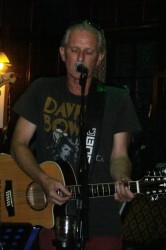 click to enlarge
Recently to be found playing in and around T. Wells as frontman with The Harveys, this is Peter's first ever solo venture.
His previous bands include SW3, Sweetheart, Transformer, Citron, The Red Guitars and The Flagmen.
The solo show will draw from all these previous bands as well as new unheard material.
With genre influences from folk, country, punk and pop the song is always key.
Peter is currently putting a new band together to back this project.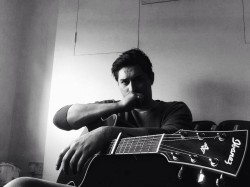 click to enlarge
Jack Leon Mackey is a singer songwriter from Tunbridge wells Kent. He has been performing for 6 years with bands and performing solo. The style of music he has adopted is a fusion between Jamie T and Alex turner. You can find his music on sound cloud, and he hopes to release an E.P in late 2014.
He has previously been in a band from Tunbridge wells named "Stray Dogs" from which he still likes to incorporate some of the songs into his set.
Look him up on Soundcloud for free downloads and constant updates.