The Grey Lady Music Lounge, Wednesday 12th April 2017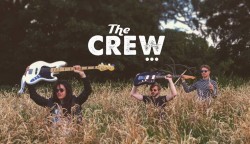 click to enlarge
The Crew are a 3-piece indie/ rock band consisting of Paul Crisp, Billy Birjukov and Jasper Morris. The band combine colourful songs with an explosive performance, soon to become one of the most exciting live acts on the scene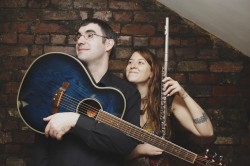 click to enlarge
We are the Giant are an acoustic duo based in the dales of Derbyshire. Eve Morris & Chris Harding, two former members of now long since disbanded folkatronica band Lo-Fi Lung have come back together after years in hibernation to perform once again. Now touring their debut album, released in January the pair are excited about a busy year ahead. Already with a busy touring and summer festival schedule as well as live radio appearances, they are certainly a pair to keep your eye on.
"From the delicately picked acoustic guitar to the depth of the flute, and the interplay of boy/girl vocals and occasional harmonies; this is the new folk with modern tales told in age-old ways."

Excerpt from a review of our debut album at www.storge.co.uk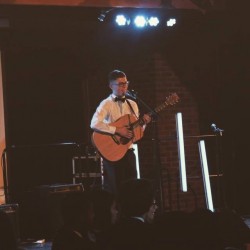 click to enlarge
My name is Hamish Donald; I am 16 years old and I am a singer songwriter from Sevenoaks. I play a few instruments but my main instrument is guitar. I took up the guitar about 4 years ago, however I have been singing for as long as I remember. I have only recently started to write my own songs as before I only really focused on covers. I am now focusing more on writing and I am making progress. Performing is what I most enjoy and want to carry on performing as much as I can. The aim is to carry on writing and performing and see how things go.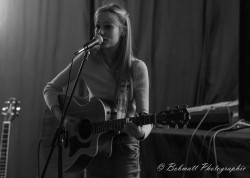 click to enlarge
My name is Sofia Ford and I am 14 years old. I am a passionate singer songwriter with a particular interest in Folk and Country music. I learnt to play the guitar at seven and have been writing and singing songs ever since. I also play the Mandolin, Banjo and Piano. Writing is one of my favourite pastimes and I spend most of my time immersed in music in some way. I get inspired to write in many forms but mainly through my own experiences in life.
I have played the Crawley Folk festival, at the Hawth Crawley a couple of times, also I have performed at "Cancer Relay for Life" twice in Reigate, and also the Reigate Community Festival. Last summer I got to play a set at Oxted, Master Park's "Picnic in the Park". Last Christmas I was lucky to support "Randy and the Rockets" as the supporting act at their gig at Warlingham Church all. More recently I have enjoyed playing at Holland Sports Social club on a couple of occasions.
My influences would be a diverse group of artists, Dixie Chicks, Taylor Swift, Dolly Parton and Tim McGraw. I also love the bands The Killers and Oasis!
Music is my life and in the future my greatest wish is to eventually go to Nashville Tennessee, and get the chance to play in the famous Blue Bird Café.