Sofia Ford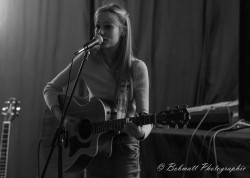 click to enlarge
My name is Sofia Ford and I am 14 years old. I am a passionate singer songwriter with a particular interest in Folk and Country music. I learnt to play the guitar at seven and have been writing and singing songs ever since. I also play the Mandolin, Banjo and Piano. Writing is one of my favourite pastimes and I spend most of my time immersed in music in some way. I get inspired to write in many forms but mainly through my own experiences in life.
I have played the Crawley Folk festival, at the Hawth Crawley a couple of times, also I have performed at "Cancer Relay for Life" twice in Reigate, and also the Reigate Community Festival. Last summer I got to play a set at Oxted, Master Park's "Picnic in the Park". Last Christmas I was lucky to support "Randy and the Rockets" as the supporting act at their gig at Warlingham Church all. More recently I have enjoyed playing at Holland Sports Social club on a couple of occasions.
My influences would be a diverse group of artists, Dixie Chicks, Taylor Swift, Dolly Parton and Tim McGraw. I also love the bands The Killers and Oasis!
Music is my life and in the future my greatest wish is to eventually go to Nashville Tennessee, and get the chance to play in the famous Blue Bird Café.
Last played:
Pizza Express Maidstone, Thursday 18th October 2018
Sofia Ford, Kelly Stanley & Company, Harry Whitty Band