The Floodgates EP Launch, Thursday 30th March 2017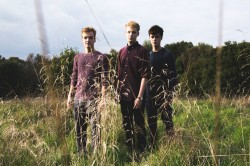 click to enlarge
Soundwave - "You - a warm bluesy tune with enough scope to get you through any day of the week."
Backseat Mafia - "A simply great, uplifting and easy to listen to band."
Originally starting out as a folk duo at the beginning of 2013, The Floodgates is the brainchild of 17 year old singer/lead guitarist Martin Stenning, and bassist Tim Fullbrook. "We just dabbled with the idea of playing together. We started with YouTube cover videos of Mumford & Sons in the garden and...ran with it." A year on, their success has become much more than an idea. Now teamed with Alex Wane on percussion as well as session players Sander Priston and Eden Fish on keys, the band has begun a new sound entirely. Combining folk and blues, it's easy to hear their influences – Mumford & Sons, Paolo Nutini and Tom Odell. But it's far more intriguing to hear their own, fresh approach. While they have the blessing of youth on their side - only being 17 years old and still tackling their A Levels - there is also a maturity to their sound that fits together perfectly, making it clear these boys stand out of the herd.
A few hours busking in London caught them enough attention to be personally invited along to Heavyweight boxing champion, David Haye's gym to play at an open day, and they haven't looked back since. In just one year, they have gone from their YouTube videos to headlining shows around the country, releasing their debut EP 'God Knows', helming a vastly growing online presence and planning a small Summer 2015 Tour, showing that in the upcoming months; The Floodgates are one to watch.
New Single 'You' out now. Available to download on iTunes and stream on Spotify.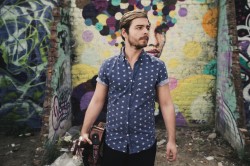 click to enlarge
Nate Austin is a multi-instrumentalist, singer, songwriter and producer. Nate moved to Crowborough 2 years ago, having previously lived in London, Nottingham, Brighton and Los Angeles.
Nate writes, records and produces all of his own music. His music is a catchy blend of poppy melodies, rocky beats and modern electronica. He writes songs from the heart; whilst trying to stem the listener with uplifting, empowering and positive messages. He says the other aim for each song is to embed themselves deep within the listener's ear, after the first time of hearing them.
In 2017, Nate ventured into electronic pop to critical acclaim. His first two singles of the year (Wild Love & Poison Arrows) have both been featured consecutively as BBC Introducing Track of The Days', and have also been aired on other BBC and national radio stations, and featured on many blogs.
Throughout the rest of the year, Nate will be putting all of his energy into releasing as many songs and videos as possible, and taking a full live band show on the road. Sign up to his mailing list to keep up to date with what he's doing, like him on Facebook or visit his website.
EQ Music blog say: "Nate's got quite a lot of everything that we look for in an unsigned, emerging artist: Drive, determination, and the hunger to constantly sharpen up his skills".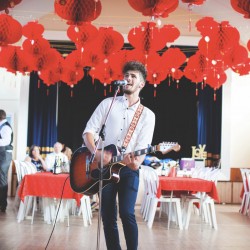 click to enlarge
Hannigan is a 20 year old singer-songwriter from Kent, who has been playing as a solo artist for about 4 years now. He has been involved in a wide variety of projects in the past which has lead him to an alternative acoustic sound with drops of inspiration from everywhere. Although he has been influenced by many artists Hannigan draws heavily from the songwriter "Passenger" for lyrical content creating meaningful songs that everybody can relate too.