Nate Austin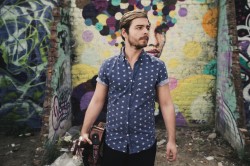 click to enlarge
Nate Austin is a multi-instrumentalist, singer, songwriter and producer. Nate moved to Crowborough 2 years ago, having previously lived in London, Nottingham, Brighton and Los Angeles.
Nate writes, records and produces all of his own music. His music is a catchy blend of poppy melodies, rocky beats and modern electronica. He writes songs from the heart; whilst trying to stem the listener with uplifting, empowering and positive messages. He says the other aim for each song is to embed themselves deep within the listener's ear, after the first time of hearing them.
In 2017, Nate ventured into electronic pop to critical acclaim. His first two singles of the year (Wild Love & Poison Arrows) have both been featured consecutively as BBC Introducing Track of The Days', and have also been aired on other BBC and national radio stations, and featured on many blogs.
Throughout the rest of the year, Nate will be putting all of his energy into releasing as many songs and videos as possible, and taking a full live band show on the road. Sign up to his mailing list to keep up to date with what he's doing, like him on Facebook or visit his website.
EQ Music blog say: "Nate's got quite a lot of everything that we look for in an unsigned, emerging artist: Drive, determination, and the hunger to constantly sharpen up his skills".


http://www.nateaustinmusic.com/
Nate Austin on Twitter (@nateaustinmusic)
Last played:
The Floodgates EP Launch, Thursday 30th March 2017
Hannigan, Nate Austin, The Floodgates