The Grey Lady Music Lounge, Wednesday 18th May 2016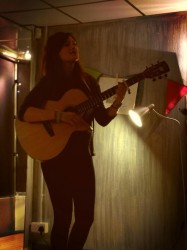 click to enlarge
"I am a 17 year old singer/songwriter from Tunbridge Wells. I started writing lyrics about anything and everything at the age of twelve, but only begun to turn them into songs a year later when I was told I could sing! From here I fell in love with music and had guitar lessons for a short while but eventually started to teach myself to play guitar. I first heard Gabrielle Aplin when she was on youtube over four years ago as she was a songwriter of a similar age and background to myself. Her successes and her recent fame have been a huge influence of mine. I intend to keep gigging locally for the time being and then continue to play at University next year."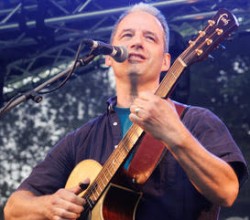 click to enlarge
Nick Stephens invented the Octave Guitar to create a very full sound for his Funky Blues Gospel songs. You can hear how good it sounds by watching the videos at Nick's website.
Nick opened the Local & Live Music Festival Mainstage in 2018. Jake Boyle's response to Nick's live work was: "F***ing incredible!" and Geno Washington said of his Octave Guitar sound: "Don't change sh**!".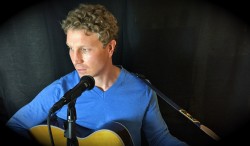 click to enlarge
My music is minimalist by nature; one voice and one guitar fused together with the aim of creating something pleasing to listen to.
I am a folk musician though my influences encompass a variety of musical genres. I write original compositions as well as performing traditional music and folk based interpretations of modern songs.
Paul adds: "James Lattimer's beautifully crafted, atmospheric songs remind me of Bon Iver and Damien Rice. He writes lyrics of real substance and meaning and has a definite knack for creating easy on the ear melodies keeping you hooked throughout. "
click to enlarge
Amber was born and bred in Brighton and now lives in Crowborough (by way of Leamington Spa, London, Crawley, Burgess Hill, Fleet, Germany and Oxford!). By day she is a full time Drama teacher and by night a singer songwriter. She started writing songs at the age of eleven, in between singing along to Kylie Minogue songs. Her musical taste diversified over the years and now she cites her influences as Frank Turner, Beth Orton and The Indigo Girls, among others. Amber has performed in covers bands and musical theatre over the years, but has always come back to her first love, composing and performing her own music. She has been lucky enough to collaborate with some fantastic musicians over the years, most recently with professional composer Trystan Francis and producer Tom Cooper. Amber's music is best described as Folky, Acoustic Pop and her dream is to play at Cropredy Festival! She has recently relaunched her own music and has already gathered a modest Twitter following, had her video broadcast on a Sussex TV station and been invited to perform at local venues. Amber's songs are available on iTunes, Spotify and all other good online music retailers.