The Grey Lady Music Lounge, Tuesday 22nd March 2016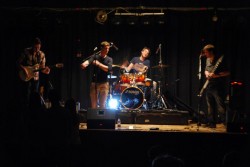 click to enlarge
Storm Engine are a UK South-Eastern four piece who formed in 2008 after guitarist Wayne Brummer and bassist George Baldwin met on the set of an erotic Swedish film written by drummer Tim Pears and being directed by singer Ryan Barker. All of them had arrived that day by mistake (Tim was under the impression he'd written a cyber-thriller) and so Storm Engine was formed as a way of dealing with their collective shame and embarrassment.
Fast forward 7 years and Storm Engine are still going strong, bringing a melodic melange of funk and rock to the masses. All writers, their varied influences merge to create a unique and infectious sound formed from harmonious melodies, big riffs, funky bass and driving beats. At the heart of it all though, Storm Engine just want to have fun.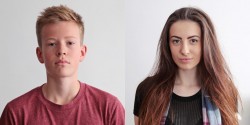 click to enlarge
MODL are a unique electronic act, combining the catchy musicality of today's pop sound with the more alternative world of diverse synth and drum sounds, keys and organic instruments. Charlotte's soulful vocals, acquired from years of experience singing on stage and in the studio, offer an R&B-esque tone to Richard's range of production and songwriting styles. Together they have been performing for nearly 2 years but their music careers extend much further back to numerous independent ventures and joint projects. MODL now have two official singles steadily picking up plays - with 'The Things I'll Do' featuring on Spotify's Fresh Finds playlist - and with an album on the horizon are collaborating more and more with Tunbridge Wells vocalist Imy Laurie, who offers yet another dimension of sound to their recordings.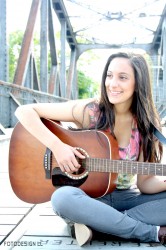 click to enlarge
Sonja Fritzsche is an 18 years old singer-songwriter from Germany. After gaining lots of experience by playing concerts with different musical projects, Sonja started to tour as a singer-songwriter. She has written songs since she was 10 years old and her lyrics are often about love, friendship and feelings. Over the years, Sonja has won various national musical contests. She played several concerts with nationally famous artists and she experienced playing on bigger and smaller stages. In 2014, she released her first EP record called "Laugh I Live I Love", which was played on many radio stations in Germany. The first edition of the record was sold out after a short time. Sonja was invited to local TV shows and many magazines recommended her EP.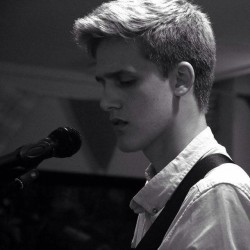 click to enlarge
I have been playing the piano since I was eight and started learning the guitar two years ago. As I improved I found the courage to sing, freeing my passion for writing music. I have an interest in all kinds of music which has helped develop my writing style and I find it very satisfying when I can incorporate and fuse genres together. My sound is mainly acoustic. However I am slowly learning to use a loop station to build more variety into my tracks. I feel that my style of singing is heavily influenced by rock and musical theatre. Although I don't sound like them, Muse are a big influence in my songwriting and are a great inspiration for me. I am currently taking the Diploma Songwriting course at BIMM London followed by the Degree course in September. I have been an onstage performer since I was nine and have performed many solo and band gigs at local venues, school concerts, fairs and my local Diner. I am currently rehearsing in a band for the musical "Grease" in which I play the guitar.