The Pheasantry, Pizza Express, Thursday 17th September 2015
Tickets £10 - available on 08456 027017. Order before 5pm on 16/09/2015 and quote any of the band names to qualify for a discounted early bird ticket at £7.
Or order online at www.pizzaexpresslive.com.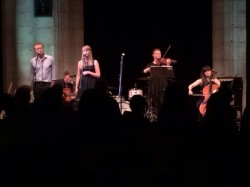 click to enlarge
Singer-songwriter, Paul Dunton leads his own unique cross-over orchestra providing an atmospheric fusion of alternative and pop with a classical twist. Paul & his Orchestra take influences from varying modern day artists such as Pink Floyd, Elbow, ELO, Turin Brakes, Massive Attack, Damien Rice and contemporary composers such as Samuel Barber, Ludovico Einaudi, John Barry and Hans Zimmerman. The Orchestra performs Paul's own compositions and a varied selection of uniquely arranged standards from a wide range of artists. The line-up of 8 violins, 4 cellos, guitar, flute, bass and percussion accompanies Paul on vocals and piano, joined by his lead vocalists, Charlotte Andrew and Poppy Raine. Paul and his Orchestra regularly perform at concerts, festivals and private events throughout the UK and internationally, including headlining the Theatrium Wilhelmstraße Festival in Wiesbaden, Germany and an 8 state tour of the USA which culminated in a spectacular roof-top performance on top of the New York Strand Hotel. Increased attention and success led to the orchestra being featured on BBC Radio 2 by Joan Armatrading with interviews and airplay of one of Paul's songs, 'Don't Forget'. This led to Paul supporting Joan Armatrading on five occasions during her recent UK tours.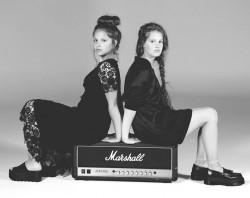 click to enlarge
Freddie and Charlie Frampton, born, raised and home educated on the Orkney Isles, have always had a love for music.
From a young age they began performing with their parents in their family band and have continued on as a duo, developing their songs and performing around the country.
Charlie is now studying musical theatre at The Brit School, Freddie focuses her time on songwriting and they both play a large range of musical instruments.
In February 2018 they reached the final 10 of the BBC Young Folk Awards and were able to join other young musicians for a weekend in the Lake District.
They are currently in the process of recording their songs to produce their first album and hope to release that some time in the near future.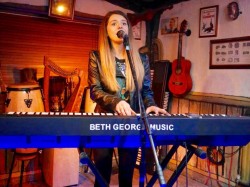 click to enlarge
Beth has been playing piano since the age of six, and started singing at the age of ten. Performing is not a hobby, it is her passion.
Now she can be found regularly performing in Whitstable Harbour and has been gigging for the past three years all around Kent and London as well as at regular Open Mic Nights.
Her style of music has been influenced by the likes of Alicia Keys, Birdy and Adele, and she has just finished recording her debut EP which also has some dance/uptempo styles with her soft delicate vocals.
She has just been accepted into Guildford university where she will be studying a songwriting and artist development course and plans to perform more around London.
(TBC) Artist