Beth George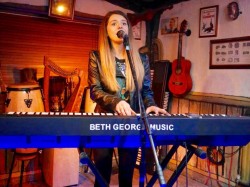 click to enlarge
Beth has been playing piano since the age of six, and started singing at the age of ten. Performing is not a hobby, it is her passion.
Now she can be found regularly performing in Whitstable Harbour and has been gigging for the past three years all around Kent and London as well as at regular Open Mic Nights.
Her style of music has been influenced by the likes of Alicia Keys, Birdy and Adele, and she has just finished recording her debut EP which also has some dance/uptempo styles with her soft delicate vocals.
She has just been accepted into Guildford university where she will be studying a songwriting and artist development course and plans to perform more around London.
Last played:
The Pheasantry, Pizza Express, Thursday 17th September 2015
Artist (TBC), Beth George, The Frampton Sisters, The Paul Dunton Orchestra