Pizza Express Maidstone, Thursday 27th August 2015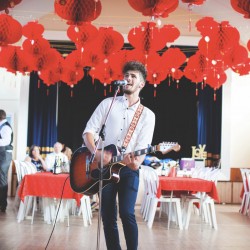 click to enlarge
Hannigan is a 20 year old singer-songwriter from Kent, who has been playing as a solo artist for about 4 years now. He has been involved in a wide variety of projects in the past which has lead him to an alternative acoustic sound with drops of inspiration from everywhere. Although he has been influenced by many artists Hannigan draws heavily from the songwriter "Passenger" for lyrical content creating meaningful songs that everybody can relate too.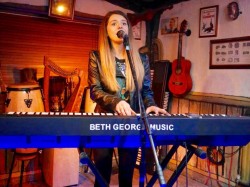 click to enlarge
Beth has been playing piano since the age of six, and started singing at the age of ten. Performing is not a hobby, it is her passion.
Now she can be found regularly performing in Whitstable Harbour and has been gigging for the past three years all around Kent and London as well as at regular Open Mic Nights.
Her style of music has been influenced by the likes of Alicia Keys, Birdy and Adele, and she has just finished recording her debut EP which also has some dance/uptempo styles with her soft delicate vocals.
She has just been accepted into Guildford university where she will be studying a songwriting and artist development course and plans to perform more around London.