10th Anniversary Week: Joanne Louise Parker, Poppy Raine, Phoebe Katis, The Varlies, Cyrano, Sunday 9th August 2015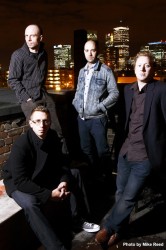 click to enlarge
Originally formed as a three piece back in 2001, indie rock band Cyrano soon became a foursome with the addition of lead guitarist, Karl Barton. From this moment on, their sound was born. With influences from bands like Pearl Jam and Elbow, Cyrano have crafted a unique blend of thoughtfully written songs, rock guitars and Tom Yorke-esque vocals resulting in a hugely melodic sound. The band are currently recording their second album in Assault and Battery Studios in London. Their first album "I, You, Us, Them" is available to buy on CD and iTunes. The band's line up is Joe Ackerley on Vocals and guitar, Matt Wilson on drums, Tim Hubbard on bass and vocals, and Karl Barton on lead guitar.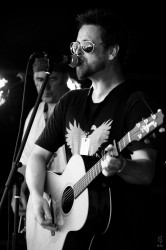 click to enlarge
The Varlies are a homegrown Tunbridge Wells rock band. Formed back in the
early 90s by guitarist, Kev Amos and singer, John Whitehorn, they have
been delighting audiences and listeners alike ever since with their own
blend of music and infectious live performances. The Trinity show is set
to offer a chance to catch the full band in one of their now rare
performances together where they will be performing songs from their last
four albums. With Paul May on drums and Steve Mealing on bass completing
this fantastic line up, this really be one not to be missed. Paul Dunton
Says... "The Varlies are quite simply one of the best bands I have ever
seen live. Their sublime musicianship and infectious melodies underpin
their undoubted ability to create fantastic music. This is band that takes
you on a rollercoaster of emotions! Expect everything from high energy
foot stomping rockin' tunes, funky grooves and hire wire guitar riff's to
beautifully crafted acoustic ballads. John Whitehorne is an exceptional
vocalist, with an incredible range and tone that reminds me of Neil Finn, with shades of Bon Iver's falsetto at times. The band's
live sound is hard to pigeon hole as they have their own swagger and
style, however if you said names such as The Dave Matthew's Band or a
rockier version of Crowded House that would give you an idea!"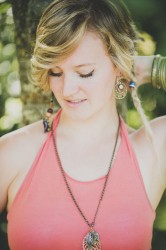 click to enlarge
With powerful lyrics, beautifully crafted melodies, and a soaring soulful voice, Phoebe writes from the heart: raw, emotional, yet universally relatable narrative are her muse, told through music that dances between soulful ballads, and sophisticated jazz-pop fusions. Phoebe received a BA in Music from the University of Leeds in 2014, and is now based in London where she regularly gigs with her 5 piece, jazz/neo-soul band.
The group is influenced by the likes of Natalie Williams, Carole King, Lianne La Havas, Joss Stone, Emily King, Norah Jones, Robert Glasper, Gretchen Parlato and Alicia Keys. The group have played in a number of prestigious venues including The Pheasantry Music Club @ Pizza Express, The Old Queen's Head, The Bedford, The Blues Kitchen, Camden, and Ronnie Scott's.
Phoebe's single 'All Of My Life' is the theme to modern British War Film 'Kajaki. The True Story' (2014) (Kilo Two Bravo - US release) and is supporting four military charities alongside the film (Help for Heroes, Walking With The Wounded, Royal British Legion, and the Hashemite Commission for Disabled Soldiers).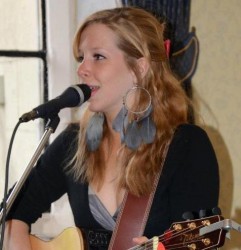 click to enlarge
Poppy Raine, previously knowns as Poppy Alice, is a local singer/songwriter from Kent with an exceptional voice and talent for writing a variety of songs that reflect her thoughts and ideas. With influences including Ed Sheeran, Hozier, Adele and Eva Cassidy to name a few, her range of emerging songs are an eclectic mix of styles centred around an acoustic/soul genre. Performing since she was 16, Poppy Raine has been delivering her emotionally powerful performances at numerous festivals, pubs and private functions accompanying her vocals with her beloved guitar.
Following her travels around Australia and New Zealand, Poppy is currently studying songwriting at the Institute of Contemporary Music Performance in London where she is finding a new love for an extensive range of musical styles. She is currently writing her debut album following the success of her sell out EP 'Just As I Am' which was released in the Summer of 2012. So sit back an enjoy a mix of songs about Poppy's two favourite things: love and cake.
Find her on Facebook, Twitter or Soundcloud.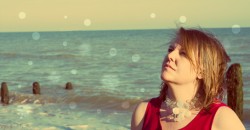 click to enlarge
Fans say that Joanne Louise Parker has a voice which "makes the hairs stand up on the back of your neck". A regular on the open mic scene, she can silence a room during performances of her a cappella songs. The past year has been spent recording her debut album "Moontide" along with Brighton based producer Max Gilkes which contains orchestrated evolutions of Joanne's original songs. Joanne has travelled extensively and performed her songs to audiences great and small from the West Coast of the US to as far east as Russia and recent support slot credits include Eliza Carthy, Gretchen Peters, Brian Kennedy and Jane Siberry.