The Grey Lady Music Lounge, Tuesday 7th April 2015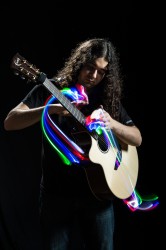 click to enlarge
Sean de Burca is a percussive acoustic guitarist from Kent. By the time he had been playing guitar for just 7 years, he had already been named as one of the top 30 greatest acoustic guitarists under the age of 30 worldwide by Acoustic Guitar Magazine, alongside Ed Sheeran, Newton Faulkner and more. Sean has also been featured as Acoustic Magazine's 'Next Big Thing'. On his latest CD, Mechanism, an experimental album combining various playing styles and genres, Sean has also featured his bass guitar, drums and electric guitar playing alongside his original solo acoustic compositions.
"From harmonics to percussive slapping to agile fretboard dancing, this southpaw knows a thing or two about getting the most sound possible out of his guitar. On his three full-length releases on Bandcamp, the self-taught guitarist shows he isn't afraid of taking risks."
Acoustic Guitar Magazine 2014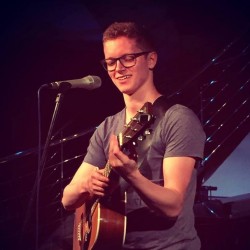 click to enlarge
Duke first picked up the acoustic guitar at the age of 16, and has made a swift rise from amateur guitarist to accomplished singer-songwriter, taking inspiration from artists such as Jack Johnson, John Mayer, Ed Sheeran and Jake Bugg. In 2013, he recorded his first EP titled 'The Valley', with a full backing band, which is available on iTunes and Spotify. In 2014 he recorded 'Hand in Hand', his second EP, which is now available in CD format. Having performed at the Pizza Express Music Room in Maidstone, and at the Pheasantry in London, he is now eager to compose more original songs and widen his repertoire.
Duke recently finished university, and now works in Brighton.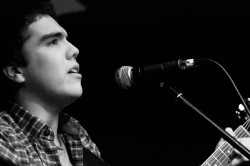 click to enlarge
Will began singing seriously when he was just 6 years old and has been writing songs since he was 14. His tastes in music cover all genres but amongst his strongest influences are Jeff Buckley (to whom he has often been likened) and songwriters such as Michelle Branch and John Shanks . Now 18, Will has an impressive catalogue of original songs and has been playing gigs around Kent and in London for over 3 years. Currently in his final year of "A" Level studies he also writes regularly for Punk Globe Magazine and has recently begun working with Ground Hero Films as a composer. London Summer Jam described his music as "smooth pop with an edge" whilst RSM's review of his single Urban Country described Will as "like John Mayer but a bit more fun and a little less world-weary". Will believes that "edge" is important, that your music should contain part of your soul and his certainly does.
(TBC) Artist