The Grey Lady Music Lounge, Tuesday 28th October 2014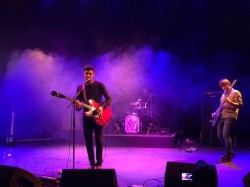 click to enlarge
Bisons can't sing, talk or play music. However, if they could, it probably wouldn't sound like Tunbridge Well's HOTTEST BAND 'Bison.' It would sound more like 'mmphhphphphrrrhahhahahahrhghghghgh'. Luckily, this isn't what Bison sound like. They sound more like a three piece rock band consisting of Charlie Gibson on guitar and vocals, 'Mad' Lewie Roberts on the bass, and Alex 'The Dawg' Cooper on the skins. Inspired by the calm menace of a herd of big horny cows, they play original guitar-driven rock focussing on brooding blues, pop positivity and big ****ing chunky songs. When tasked with writing a band biography, they displayed their infectious sense of punk rebellion by making it incredibly half-arsed. Thankfully, or so they believe, their song-writing chops, stunning looks and collectively great hair makes up for other deficiencies. Will their songs win over a tough Tunbridge Wells crowd? Only you can decide.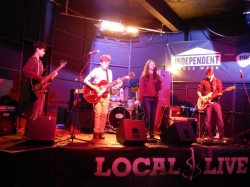 click to enlarge
Chameleon is a five piece band which plays its own material as well as putting its own twist on established classics from a range of great artists. Singer Jenni's warm soulful voice together with versatile guitarists Ben and Sam create an enticing funk rock feel that is driven by the strong rhythm section of Theo (Drums) and Isaac (Bass). The band has developed its own style, influenced by the likes of Herbie Hancock, Oli Brown, Jimi Hendrix and The Raconteurs.
Chameleon is made up of friends (aged between 12 and 15) and has been gigging locally for a couple of years, playing at The Stag Theatre in Sevenoaks, Sevenoaks Festival, Sevenoaks Jubilee Celebrations and Lullingstone Country Park. The band has also performed at the HMV Institute in Birmingham and Rich Mix in London.
They recorded their first CD (Blackout) a year ago and will shortly be returning to the studio to record more of their own material.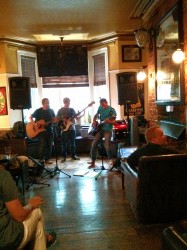 click to enlarge
Little Fish comprises Tunbridge Wells based musicians Daren Sears, Craig Forster and Paul Forster. Daren and Craig, on vocals and guitars, were founding members of Little Fish Big Pond who performed electric and acoustic shows across London and the South East. This included a headline slot at the Local and Live Festival. After the band split, Daren and Craig took a break for a while but got together in 2014 to make music again. This time they were joined by Paul, adding an extra dimension with his drums/percussion and bass. Gigs soon followed and the band is currently featuring new material alongside a selection of the most popular songs from the last three LFBP albums.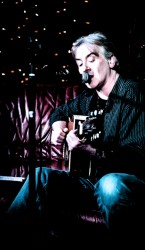 click to enlarge
James is a songwriter and performer, playing live, recording, publishing and releasing new material. James works as a solo aritist but has occasional collaborations with other players and writers on a variety of different projects.James writes in many genre's and has a wealth of original material with touches of country, folk, rock and pop and acoustic singer songwriter tunes. Concentrating on melody and lyrics the songs have a timeless quality and enjoy a strong online following with International radio play and sales.Six albums of original material have been released since 1997 with a new folk/country album "Wait For The Sunshine" out now.From the early 80's he started playing live in folk clubs and had a commission to write music for a touring childrens theatre group, played with Ralph McTell (only football actually on a green in Putney, not music, shame really) and recorded a song "Ronald Reagan Blues" with early 70's Pink Floyd collaborator Ron Geesin. In 1986 he released a 12" single via Rough Trade with the band A La Tienne. Through the following 20 odd years he progressed through various bands and solo projects leading to 6 album releases and many hundreds of live performances including 5 years at the Victoria cafe in Tonder, Denmark as part of the International Folk Festival. In 2012 he released the album "Long Long Time" which received worldwide radio play and the single "Give Me All Your Love" charted at 7 and 30 in the Hotdisc Independent and Country charts respectively. After the release of acoustic album "My Old Scene" early in 2013 a new album of original material was released in September 2013. "Wait For The Sunshine" with it's stripped back catchy tunes and honest lyrics delivers songs of love, hope, sadness, loss and optimism. The opening track Pieces Of Your Heart went Top 10 in the Hotdisc Independent chart during September 2013.