The Grey Lady Music Lounge, Sunday 16th February 2014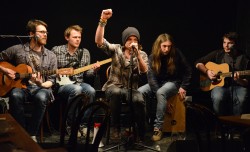 click to enlarge
AudioWhorés are a band made up of 5 friends who put their heads together in the summer of 2010, determined on delivering their own music to whoever would listen, drawing from a gargantuan array of influences from Living Colour, Pearl Jam, Rage Against The Machine, Stone Sour, The Metres and many more.
Although typically playing as an electric act (showcasing original material at such venues as The Water Rats, Camden Rock and ArchAngel), AudioWhorés have stripped back their sound to perform on the local acoustic circuit as well as various bars/clubs in London, particularly Soho, where they have been met with very positive reviews.
It was in late July of 2012 when they headed back into the studio to record their first album (which is due for release in February this year) and, for this month only, they have released their first single 'Slice Of Life' which is available FREE!! Download your copy of it at their bandcamp page.

You can also check out their brand new, Dexter-inspired music video for this track on Facebook: http://www.facebook.com/OfficialAudio

(photo © Nigel Martin)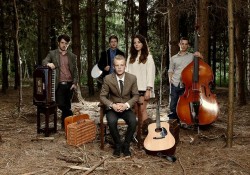 click to enlarge
Freddy Green has been performing around Kent since 2009 and writing music for what he would describe as the most significant years of his life. As a largely self taught musician he takes his influence from a range of artists including Ben Howard, Justin Vernon, John Mayer and Ray Lamontagne, but his varying taste in genres of music brings out a unique sound reflected into his own. Amongst other things, Freddy has performed at "Barn On The Farm Festival" with artists such as King Charles, Ben Howard and Ed Sheeran. Freddy's sole aim in life is that he can go through it happily with music at the centre, one way or another.
Following those few years of excellent progress with song-writing and gigs, he put together a band of musicians, adding various colours and textures to the music and providing sensitive, intelligent ideas whilst maintaining the feel of Freddy's roots, glorious songwriting and inventive lyrics. Combined together the band have a very exstensive gigging record, ranging from your local pub all the way to soho's "Ronnie Scott's Jazz Club", filling in all the gaps in-between!
"A band that is a shining example of Indie-Folk music...Beautifully crafted songs, that build wonderfully into sublime anthems..." - Absent Kelly
"These young lads are very obviously going places..."
www.tunbridgewellslife.co.uk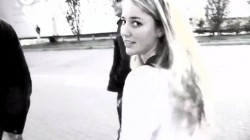 click to enlarge
'When people ask me to describe my music, I'm never quite sure what to say. The truth behind the method is that I never think about what I'm going to play before I play it. I rarely write my lyrics down or chord progressions (most of the time I'm not 100% sure what chord I'm actually playing). I guess my style is improvisational music that sticks in the head (or at least sticks in my head). I grew up on Macy Grey and Gabrielle; although I'm not quite sure that comes across in my music. My interests have spread more recently to bands such as Bon Iver, The National and Kate Rusby. I started playing my own songs when part of a three-girl harmony group in London, we played at various venues (such as the Embassy club) and went on to win the Kings College London Battle of the Bands in 2010. I went on to play as a solo artist when I studied abroad at the University of California, Berkeley. I now work in TV and enjoy making art; I paint, animate, film and have always loved music.'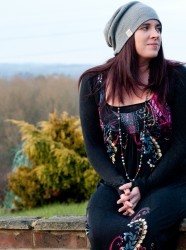 click to enlarge
Meya Rein is a singer/songwriter performing original, piano led, music with a touch of swing, jazz, soul and blues influences in her style. With both humour and sadness in her lyrics, Meya observes the world around her and tries to put what she sees in to words that will reach out to everyone. Her songs tell of heartache, friendship, hope, day-to-day life, and some may have a slight hint of revenge!
Meya is relatively new to the music scene and only really began performing as a solo artist in 2013. Since then she has gone on to win the Hailsham Arts Festival talent showcase and was a regional finalist in Open Mic UK, a national singing competition.
Now working with a band to create a bigger sound, Meya hopes to be gigging on a much wider circuit from 2014. Her debut album 'Without a Clue' is due for release early in 2014 and her EP is already in production so do keep your eye out for it online and at her gigs. Join the 'Meya Rein Music' mailing list, via her website, for up to date news, events and offers.