Meya Rein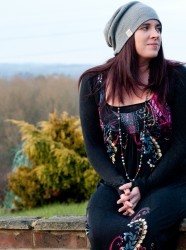 click to enlarge
Meya Rein is a singer/songwriter performing original, piano led, music with a touch of swing, jazz, soul and blues influences in her style. With both humour and sadness in her lyrics, Meya observes the world around her and tries to put what she sees in to words that will reach out to everyone. Her songs tell of heartache, friendship, hope, day-to-day life, and some may have a slight hint of revenge!
Meya is relatively new to the music scene and only really began performing as a solo artist in 2013. Since then she has gone on to win the Hailsham Arts Festival talent showcase and was a regional finalist in Open Mic UK, a national singing competition.
Now working with a band to create a bigger sound, Meya hopes to be gigging on a much wider circuit from 2014. Her debut album 'Without a Clue' is due for release early in 2014 and her EP is already in production so do keep your eye out for it online and at her gigs. Join the 'Meya Rein Music' mailing list, via her website, for up to date news, events and offers.
http://www.meyareinmusic.co.uk/
http://www.youtube.com/meyarein
Meya Rein on Twitter (@meyarein)
Last played:
The Grey Lady Music Lounge, Sunday 22nd June 2014
The Floodgates, Meya Rein, Sorrel Nation, Lights On The Mountain