The Grey Lady Music Lounge, Sunday 26th January 2014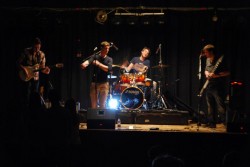 click to enlarge
Storm Engine are a UK South-Eastern four piece who formed in 2008 after guitarist Wayne Brummer and bassist George Baldwin met on the set of an erotic Swedish film written by drummer Tim Pears and being directed by singer Ryan Barker. All of them had arrived that day by mistake (Tim was under the impression he'd written a cyber-thriller) and so Storm Engine was formed as a way of dealing with their collective shame and embarrassment.
Fast forward 7 years and Storm Engine are still going strong, bringing a melodic melange of funk and rock to the masses. All writers, their varied influences merge to create a unique and infectious sound formed from harmonious melodies, big riffs, funky bass and driving beats. At the heart of it all though, Storm Engine just want to have fun.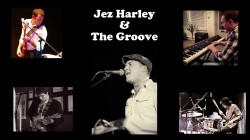 click to enlarge
Jez Harley is a professional vocalist, multi-instrumentalist and producer/songwriter. His career began when at 16 years old he was approached and asked to sing lead vocals, for a band made up of session musicians from the Top Ten Selling band Recess. Jez has supported the likes of Amy Winehouse, Corrine Bailey Rae and Newton Faulkner and closed the French Quarter Festival in New Orleans in 2013. "Working with The Groove brings a whole new vibe across in my music" says Jez, "the band are very soulful and funky, its pretty cool".
Backing Jez is a band comprised of Sam Woods (guitar), Josh Roots (piano), Tim Souch (bass) Matt Gibson (drums). All of whom are well established musicians and have shared stages with various well known artists between them including Paloma Faith, Treme Brass Band, Lillian Boutte, Ron "Bumblefoot" Thal, Khris Royal & Dark Matter, The Lightning Seeds and Alabama 3. Between them, the band have also played at some of the UK's top venues including Ronnie Scott's, The Cavern, The 100 Club, New Orleans' French Quarter Festival, Café De Paris, The Wandsworth Palais and even The Houses of Commons.
Together they bring you an evening of soulful Rhythm & Blues. Jez's heartfelt songwriting and vocals combined with the raw energy of this band will never fail to leave you wanting more.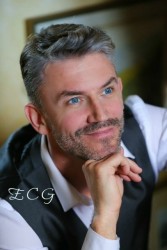 click to enlarge
After 25 years in the business world and playing in bands part time, triggered by much personal change in early 2013 Andy decided to give music his full time attention. He wrote and recorded the album " English Country Gent" using full time session musicians and released this in June 2014. He then went out and for the remainder of 2014 performing live solo gigs in bars, pubs and clubs around the South of England touching on the latter part of the festival season. In early 2015 he put together a band of professional playing musicians and is currently out on the circuit playing at quality venues promoting his album.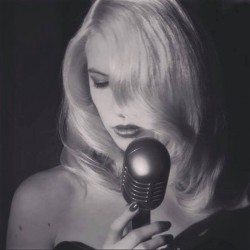 click to enlarge
Ethereal quirkiness, broody and melancholic, a truly enjoyable debut album'. Singer-Songwriter Sophie Janes performs songs from her stunning debut album 'The Fog' together with some brand new material from her next release. Cinematic pop meets orchestral grandeur; concert piano meets in-your-face voice; Kate Bush, Tori Amos and Lana del Rey meet Einaudi, Howard Shore and Ramin Djawadi.
Sophie Janes is a home-educated singer-songwriter from East Sussex whose first London gig was opening the MBS show at Earls Court after she was spotted by the former Master of Voice at Shakespeare's Globe Theatre. Since then she has spent a couple of year crafting her first album, refining her sound and set with gigs in the UK and Germany. The title track from the album was used globally in the SKY Formula 1 coverage of both the Italian and USA Grand Prix, and Sophie has been offered her own official artist showcases 2 years running at the prestigious SXSW festival in Austin, Texas. Sophie is deep into writing and recording for her second album so be ready to hear one or two exclusives.
This is a rare opportunity to see Sophie Janes live in 2016 so book your seat early!'