Jez Harley & The Groove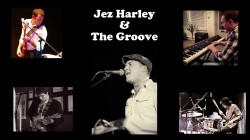 click to enlarge
Jez Harley is a professional vocalist, multi-instrumentalist and producer/songwriter. His career began when at 16 years old he was approached and asked to sing lead vocals, for a band made up of session musicians from the Top Ten Selling band Recess. Jez has supported the likes of Amy Winehouse, Corrine Bailey Rae and Newton Faulkner and closed the French Quarter Festival in New Orleans in 2013. "Working with The Groove brings a whole new vibe across in my music" says Jez, "the band are very soulful and funky, its pretty cool".
Backing Jez is a band comprised of Sam Woods (guitar), Josh Roots (piano), Tim Souch (bass) Matt Gibson (drums). All of whom are well established musicians and have shared stages with various well known artists between them including Paloma Faith, Treme Brass Band, Lillian Boutte, Ron "Bumblefoot" Thal, Khris Royal & Dark Matter, The Lightning Seeds and Alabama 3. Between them, the band have also played at some of the UK's top venues including Ronnie Scott's, The Cavern, The 100 Club, New Orleans' French Quarter Festival, Café De Paris, The Wandsworth Palais and even The Houses of Commons.
Together they bring you an evening of soulful Rhythm & Blues. Jez's heartfelt songwriting and vocals combined with the raw energy of this band will never fail to leave you wanting more.
Last played:
The Grey Lady Music Lounge, Sunday 26th January 2014
Sophie Janes, English Country Gents, Jez Harley & The Groove, Storm Engine