The Grey Lady Music Lounge, Sunday 19th May 2013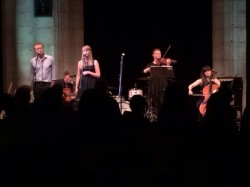 click to enlarge
Singer-songwriter, Paul Dunton leads his own unique cross-over orchestra providing an atmospheric fusion of alternative and pop with a classical twist. Paul & his Orchestra take influences from varying modern day artists such as Pink Floyd, Elbow, ELO, Turin Brakes, Massive Attack, Damien Rice and contemporary composers such as Samuel Barber, Ludovico Einaudi, John Barry and Hans Zimmerman. The Orchestra performs Paul's own compositions and a varied selection of uniquely arranged standards from a wide range of artists. The line-up of 8 violins, 4 cellos, guitar, flute, bass and percussion accompanies Paul on vocals and piano, joined by his lead vocalists, Charlotte Andrew and Poppy Raine. Paul and his Orchestra regularly perform at concerts, festivals and private events throughout the UK and internationally, including headlining the Theatrium Wilhelmstraße Festival in Wiesbaden, Germany and an 8 state tour of the USA which culminated in a spectacular roof-top performance on top of the New York Strand Hotel. Increased attention and success led to the orchestra being featured on BBC Radio 2 by Joan Armatrading with interviews and airplay of one of Paul's songs, 'Don't Forget'. This led to Paul supporting Joan Armatrading on five occasions during her recent UK tours.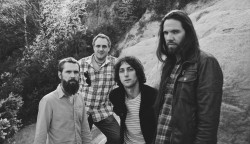 click to enlarge
The birth of Wheels was an easy one. Five old friends who share a love for rock and roll music, soul, folk and country. Last year saw the release of their debut album 'Ten Popular Melodies' on Easy Action Records, currently available on itunes and Amazon. So far in 2013, Wheels have released a new free single 'We can never go back' as a taster for their second album to be released later this year.
If Neil Young had ever written songs with the Velvet Underground then that would probably be the closest thing to describing how Wheels sound. Enjoy.
click to enlarge
Sophie says:

My name is Sophie Draper and I am seventeen years old. I have been singing since I was young. I used to write poems from a very early age and recently I have started writing songs since I took up learning the guitar. I performed last year in a show called 'Live and unsigned' where I was spotted by agents that then signed me to their Artist academy, where artists like Pixie Lott and Rui Da Silva have emerged from. In this I am writing and recording new songs with an acclaimed songwriter/ producer with an aim to have an album of demos and to be signed up.
I would say my influences are Michelle branch, Taylor Swift and The Band Perry as my voice fits in the country/pop genre. I have won a few music festivals and played my own song called 'Your eyes' in Trosley festival in 2010. I performed at various school events and am now at my first year of college (Kcollege) studying music performance where I have performed at a few college gigs.
In the future I wish to be a recognized recording artist and reach out to people with my music as others have to me.

Sophie is accompanied by George Priddle on guitar.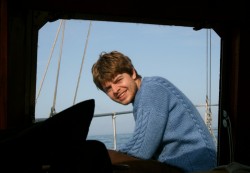 click to enlarge
Washed together from West Germany to the Garden of England, via the Costa Blanca, and around the London Orbital up to NW6. This is local musician Shaun Ottway's brand new project for 2013 – with plenty of love for John Lennon / Arcade Fire / The Last Shadow Puppets / Buddy Holly along the way.
With the spring release of debut album 'The Tide & I' come songs that are shameless in nostalgia - and set on sailing a little solace & delight through many-a-speaker.
Watch the video for the title track from the upcoming album 'The Tide & I' below.