Shaun & The Tides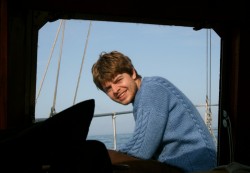 click to enlarge
Washed together from West Germany to the Garden of England, via the Costa Blanca, and around the London Orbital up to NW6. This is local musician Shaun Ottway's brand new project for 2013 – with plenty of love for John Lennon / Arcade Fire / The Last Shadow Puppets / Buddy Holly along the way.
With the spring release of debut album 'The Tide & I' come songs that are shameless in nostalgia - and set on sailing a little solace & delight through many-a-speaker.
Watch the video for the title track from the upcoming album 'The Tide & I' below.
Shaun & The Tides on Soundcloud
Last played:
The Grey Lady Music Lounge, Sunday 19th May 2013
Shaun & The Tides, Sophie Rose (formerly Sophie Draper), Wheels (acoustic), The Paul Dunton Ensemble