The Pheasantry, Pizza Express, Thursday 23rd August 2012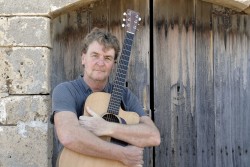 click to enlarge
"Steve Dagleish is a versatile singer-songwriter whose unassuming nature when he takes to the mic rather hides a wealth of experience and talent. He has layers to his songwriting and his performance that reward careful listening in ways that more instantly accessible pop music might not. Yeah. Everybody says they're influenced by Nick Drake, coz it makes 'em look cool, but this man is the real deal."
Kate Lynn-Devere, Radio Presenter

Inspired by the craftsmanship of songwriters Neil Young, John Martyn and Nick Drake, Steve has performed his original songs around London's acoustic circuit for the last five years, recently headlining at Camden's Green Note, Fulham's Troubadour, Farringdon's Betsey Trotwood, Putney's Half Moon and Bush Hall.
"True to his obvious influences the beautiful guitar playing displayed by Steve Dagleish is infectious. His finger picking is precise and timely. Nicely arranged musicality rounds off the package and Dagleish has given us some musical food for thought."
CME - CatsAsk On-line Reviews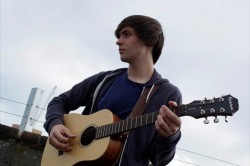 click to enlarge
Originally self-taught, and having played guitar for 7 years, it comes as a surprise that Peter Campbell has only been on the music scene for under a year. Playing at every open mic and gig he could find from the ripe age of 18. His distinct acoustic style mixes well with heartfelt, youthful lyrics and his recently released EP was referred to as "telling tales of naivety and heartbreak" Almost a perfect reflection of this 19 year olds original songs, Peter has been compared to the likes of Ed Sheeran and Damien Rice though he makes a distinct point to make his music his own. Having already supported big artists in the industry such as Charlie Simpson and fresh from the release of his debut EP 'Love Lost' , Peter has high hopes and is certainly an artist to look out for on the music scene!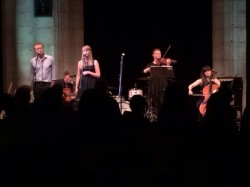 click to enlarge
Singer-songwriter, Paul Dunton leads his own unique cross-over orchestra providing an atmospheric fusion of alternative and pop with a classical twist. Paul & his Orchestra take influences from varying modern day artists such as Pink Floyd, Elbow, ELO, Turin Brakes, Massive Attack, Damien Rice and contemporary composers such as Samuel Barber, Ludovico Einaudi, John Barry and Hans Zimmerman. The Orchestra performs Paul's own compositions and a varied selection of uniquely arranged standards from a wide range of artists. The line-up of 8 violins, 4 cellos, guitar, flute, bass and percussion accompanies Paul on vocals and piano, joined by his lead vocalists, Charlotte Andrew and Poppy Raine. Paul and his Orchestra regularly perform at concerts, festivals and private events throughout the UK and internationally, including headlining the Theatrium Wilhelmstraße Festival in Wiesbaden, Germany and an 8 state tour of the USA which culminated in a spectacular roof-top performance on top of the New York Strand Hotel. Increased attention and success led to the orchestra being featured on BBC Radio 2 by Joan Armatrading with interviews and airplay of one of Paul's songs, 'Don't Forget'. This led to Paul supporting Joan Armatrading on five occasions during her recent UK tours.