Steve Dagleish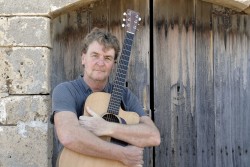 click to enlarge
"Steve Dagleish is a versatile singer-songwriter whose unassuming nature when he takes to the mic rather hides a wealth of experience and talent. He has layers to his songwriting and his performance that reward careful listening in ways that more instantly accessible pop music might not. Yeah. Everybody says they're influenced by Nick Drake, coz it makes 'em look cool, but this man is the real deal."
Kate Lynn-Devere, Radio Presenter

Inspired by the craftsmanship of songwriters Neil Young, John Martyn and Nick Drake, Steve has performed his original songs around London's acoustic circuit for the last five years, recently headlining at Camden's Green Note, Fulham's Troubadour, Farringdon's Betsey Trotwood, Putney's Half Moon and Bush Hall.
"True to his obvious influences the beautiful guitar playing displayed by Steve Dagleish is infectious. His finger picking is precise and timely. Nicely arranged musicality rounds off the package and Dagleish has given us some musical food for thought."
CME - CatsAsk On-line Reviews
http://www.reverbnation.com/stevedagleish
http://www.youtube.com/user/dagelfish
Last played:
The Pheasantry, Pizza Express, Thursday 23rd August 2012
The Paul Dunton Ensemble, Peter Campbell, Steve Dagleish