The Grey Lady Music Lounge, Sunday 10th June 2012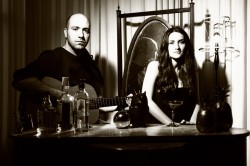 click to enlarge
Last minute replacement for Sarah Lillie.
It is a year now since Cyrano's Joe Ackerley teamed up with his sister Alice to form 'The Ackerleys' as a side line - turned major project! Already they have a fast-growing repertoire of folk/pop tunes, some light and uplifting, some moody and soulful, but all featuring close harmony, strong chord structure and catchy melody. Joe employs his prodigious song writing skills and his own rich baritone to complement and showcase Alice's striking voice. Joe's roots are in rock music as is well known to many of on the TW music scene, his deep seated influences an unusual mix of Pearl Jam/ Radiohead/ Elbow/Crowded House/Jeff Buckley. His sister Alice, just turned 17, provides a more contemporary vibe – Laura Marling, The Staves, Florence and the Machine, Emmy the Great, Marina & the Diamonds. The result is delightfully different - but judge for yourself. The dynamic duo has now added lead guitar and drums in the form of Steve McCormack, and Matt Wilson.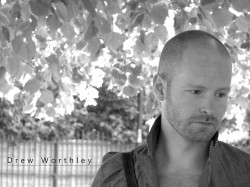 click to enlarge
London-based troubador Drew Worthley has been immersed in the music scene since growing up in Kent. In the last decade he has focused on developing a passionate and distinctive approach to playing the acoustic guitar with other artists, even playing a live session on the Bob Harris show on BBC Radio 2. His debut album 'The Ember' is a collection of wistful and honest ballads about love and loss. Although all the tracks are centred around a spine of acoustic finger-picking or strummed guitar, a sprawling web of banjos, ukuleles, cajon, bass and trumpet weave their way around Worthley's heartfelt vocals to create a diverse musical tapestry. Rhythm&Blues magazine awarded the "intoxicating" record a 10/10 review, whilst Maverick magazine called it an album which "will take an extraordinary effort to even match let alone better." With a track recently featured in Wired magazine, this is an album and acoustic performance not to miss.
A free download of '3am' is available at Drew's website.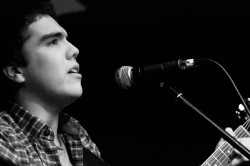 click to enlarge
Will began singing seriously when he was just 6 years old and has been writing songs since he was 14. His tastes in music cover all genres but amongst his strongest influences are Jeff Buckley (to whom he has often been likened) and songwriters such as Michelle Branch and John Shanks . Now 18, Will has an impressive catalogue of original songs and has been playing gigs around Kent and in London for over 3 years. Currently in his final year of "A" Level studies he also writes regularly for Punk Globe Magazine and has recently begun working with Ground Hero Films as a composer. London Summer Jam described his music as "smooth pop with an edge" whilst RSM's review of his single Urban Country described Will as "like John Mayer but a bit more fun and a little less world-weary". Will believes that "edge" is important, that your music should contain part of your soul and his certainly does.
click to enlarge
Sophie says:

My name is Sophie Draper and I am seventeen years old. I have been singing since I was young. I used to write poems from a very early age and recently I have started writing songs since I took up learning the guitar. I performed last year in a show called 'Live and unsigned' where I was spotted by agents that then signed me to their Artist academy, where artists like Pixie Lott and Rui Da Silva have emerged from. In this I am writing and recording new songs with an acclaimed songwriter/ producer with an aim to have an album of demos and to be signed up.
I would say my influences are Michelle branch, Taylor Swift and The Band Perry as my voice fits in the country/pop genre. I have won a few music festivals and played my own song called 'Your eyes' in Trosley festival in 2010. I performed at various school events and am now at my first year of college (Kcollege) studying music performance where I have performed at a few college gigs.
In the future I wish to be a recognized recording artist and reach out to people with my music as others have to me.

Sophie is accompanied by George Priddle on guitar.